Cuirt na Rasai Apartments
Property Details for Cuirt na Rasai - 4 bed apt
Property Type
Apartment
Travel Location
Galway City, Co. Galway
Capacity
Sleeps up to 8
Pricelist
Pricelist
Hide this Box
Star Rating

Price
€700.00 - €700.00

DE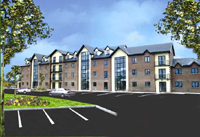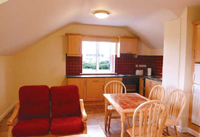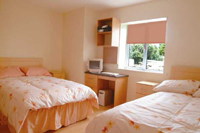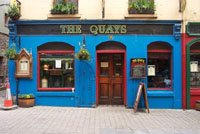 Additional Info
Description
Facilities

Linen Provided
Television
Cooker
Microwave
Central Heating
Sleeps up to 8 people
Cúirt Na Rásaí (Racecourse Court), is a modern, exclusively designed, stylish new student accommodation complex during the academic year and is open for short lets for holiday accommodation during the summer months of June, July & August. In all there are 32 apartments in this four storey building. There are both 2 and 4 bedroomed options and each bedroom contains a double bed. STUDENT ACCOMMODATION - ONLY AVAILABLE FOR SUMMER RENTALS
Not only is Cúirt Na Rásaí unrivalled in location but also in its fit-out. High quality fit-out is a feature of the entire complex with beech wood finish throughout kitchens, wardrobes, computer desks, dressing tables and bed furniture. Kitchens are fitted out with all high quality appliances. There is individual parking for each apartment and many of the apartments feature their own small balcony.
Cúirt Na Rásaí is ideally located as there is a regular bus service every 20 minutes to the city centre and a small supermarket is located within a minute's walk along with a proposed new Shopping Centre and Cinema just a short stroll away. Cúirt Na Rásaí is located in Ballybrit, overlooking Galway Racecourse on the main arterial routes to Sligo, Dublin and Limerick.
Facilities include:
On site shared laundry area
Multi-channel cable TV.
Smart card locking system to each unit
Double bed in every bedroom
There is no Dishwasher or Washer/ Dryer in the apartments
Please email info@dreamireland.com or telephone 00353 64 6641170 to check availability
Minimum 3 night stay applies during Sun-Fri
Minimum 2 night stay applies during Friday & Saturday
Make an Enquiry to Check Availability for this Property
STEP 2: Make a Booking Enquiry
Click the button below to make a booking enquiry on this property.

Property Pricelist
| Date | Rate for 1 Week | Minimum Stay |
| --- | --- | --- |
| 1st Jun '14 to 25th Jul '14 | €700.00 | 2 nights (for €400.00) |
| 9th Aug '14 to 29th Aug '14 | €700.00 | 2 nights (for €400.00) |
Tips for writing reviews
Was the property clean and well maintained ?
Were the facilities and amenities the same as described ?
Would you recommend this property to someone else ?

Reviews

No reviews found
You might also like...
Description
The Menlo Park Apartments comprise of 35 superb two and three bedroomed self-contained apartments situated just 15 minutes walk from the Galway city centre. STUDENT ACCOMMODATION - ONLY AVAILABLE FOR SUMMER RENTALS
Type
Sleeps
Pricelist
Info
Apartment
4

Pricelist


Hide this Box
Apartment
6

Pricelist


Hide this Box