Goldwater Cottages
Property Details for Goldwater Cottages
Property Type
Cottage
Travel Location
Castletownbere West Cork, Co. Cork
Capacity
Sleeps up to 6
Pricelist
Pricelist
Hide this Box
Star Rating


DE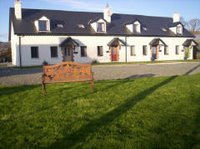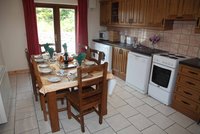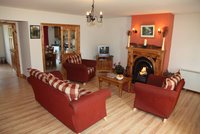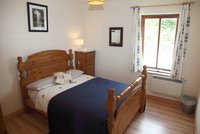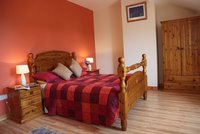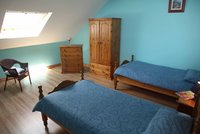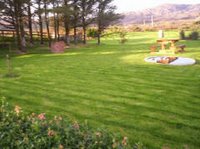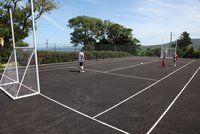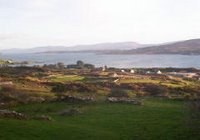 Description
Facilities

Linen Provided
Television
Video
Cooker
Microwave
Central Heating
Sea View
DVD Player
Jacuzzi
Patio Furniture
Washer/ Dryer
Barbeque
Sleeps up to 6 people
THE LOCATION:
Goldwater holiday cottages are situated in a truly majestic location. Facing south, Goldwater overlooks all of Bantry Bay, from the harbours mouth in Castletownbere to Whiddy Island in Bantry. To the North and East there are panoramic views of spectacular Hungry Hill and the surrounding mountains. We offer Four Star Failte Ireland approved self-catering cottages accommodating up to six people.
Goldwater is 3/4 of a mile from Castletownbere, and yet enjoys the total solitude and stillness of the countryside. Goldwater is extremely popular with people of all ages,, who wish to escape the hustle and bustle of modern living, and rejuvenate themselves in the beauty of this extraordinary hideaway. So if you are looking for a cottage to rent in Beara we can offer you the best in accommodation and location to ensure your Beara holiday is what it should be.
CASTLETOWNBERE:
Castletownbere has a population of 1,700 people. It is nestled between the hills, on the edge of Bantry Bay. It is Irelands largest white fishing port and is one of the worlds safest harbours. Tourists can stroll along the pier and watch the many fishing boats landing their catch.
GOLDWATER COTTAGES:
The cottages themselves are conductive to their location. The main theme running throughout is a traditional style to maximise relaxation. There is a beautiful safe shingle beach situated 1km from the cottages, by means of a quiet country walk, for safe bathing. We provide you with the perfect atmosphere for that perfect holiday.
The Main Living Room is modern, spacious, with a warm and cosy atmosphere created by traditional features such as a lovely traditional open fireplace, exposed beams on the ceiling and wooden floors throughout. The room is equipped with a colour television, DVD , Radio and CD player.
The Kitchen Dinning room is a large spacious bright room with spectacular mountain views. It is fully equipped with all modern facilities including dishwasher, fridge freezer, washing machine/dryer, electric cooker, microwave. The cottages are centrally heated throughout.
Bedroom One: Upstairs is the main bedroom, it is a spacious double room enjoying breathtaking views of Bantry Bay and Bere-Island. Wood floors and furniture create a relaxing ambience. The room is en-suite with an large shower.
Bedroom Two: Again upstairs, It is a large twin bedded room with a vanity sink. The room has a northerly aspect, taking in the surrounding rugged mountain views.
Bedroom Three: A double room downstairs, just off the main living room, with adjacent toilet and wash hand basin.
Main Bathroom: The main bathroom is large and tastefully decorated. After a day of hill walking, sailing or fishing, what better way to unwind than with a refreshing and therapeutic Jacuzzi.
CORK:
Places to Visit in Castletownbere and surrounding areas:
Dursey Island: Experience the cable car journey to this remote beautiful Island, beautiful walks, bird sanctury and Irelands most westerly point.
Fantastic BallyDonegan Beach: Safe sandy Beach in the beautiful village of Allihies
Ring of Beara: Drive or cycle the majestic ring of Beara and enjoy breathtaking views.
Dunboy Castle: The ancient home of O'Sullivan Bere surrounded by beautiful forest walks
Hungry Hill: Scale Beara's highest peak and the enjoy the view for miles and miles of land and sea. Bring a camera!
Bere island: Take the boat to this vibrant island, This island is rich in maritime history and is today still used for army training purposes. Has many hangovers and artefacts from past military excursions. Beautiful walks
Garnish Island: An oasis of tropical plants and trees due to its unique position on the Gulf stream.
Direen Gardens: An old landlord estate now a national park
Gougane Barra: Original monastery site of St. Finbarr, Irelands most popular church for weddings, surround by beautiful lakes forests and walks
Bantry House: The house of Lord Bantry now a public visitor attraction.
KERRY
Aqua Dome In Tralee is Ireland's largest waterworld and includes lots of exciting features which capture your imagination.
Blennerville Windmill A living reminder of Ireland's rich industrial heritage. Featured in the Guinness Book of Records
Crag Cave, Kerry Discovered in 1983 and thought to be over one million years old, Crag Cave is a wonderland of stalagmites and stalagmites.
Dingle Oceanworld Aquarium, Mara Beo, is set overlooking the spectacular Dingle Harbour and displays the fascinating species of fish and marine creatures
Kerry Bog Village Museum
Kerry the KingdomTells the story of Kerry and Ireland over 7,000 years. The centre comprises three superb attractions under one roof.
Kerry Woollen Mills
Muckross House and Gardens, Kerry Period mansion set in Killarney National Park
Skellig Experience Discover the Skellig Experience a must see attraction for visitors to County Kerry Ireland
On site activities;
Walking trips organised, maps provided and information
Cycling trips organised, maps and information provided
Jacuzzi in each cottage
Patio areas and Garden furniture
Barbeque area
Safe spacious garden
Nearby Activities
WALKING
Beara is renowned for having one of the most spectacular and well laid out set of walking routes nationally. The "Beara Way" offers amazing hill walking, criss-crossing the Beara Peninsula. This route is a couple of hundred meters from Goldwater Holiday Cottages.
Goldwater provides the ideal location for hill walking. We have four specific walks on quiet mountain sides, ranging from 6 to 12km in length organised for you. Three of these walks leave from Goldwater, and offer beautiful hill views of Bantry Bay and Bere-island and over the vast atlantic Ocean. These routes follow known mapped and marked routes.
Walk 1: (10 km Goldwater to Base of Hungry Hill)
Depart Goldwater and walk east along the hill of Mailin, and Hungry Hill. We can organise transport for you to be picked up at the end of this walk. Visit the magalitic and wedge graves on the route.
Walk 2 (6km Loop walk Goldwater via Hills returns)
This loop walk begins and ends at Goldwater. Beautiful walk via the hills on marked walks all around Castletownbere. Many architectural features on the way.
Walk 3 (12km Goldwater to Bere-island return)
This is indeed a unique walk. Walk 1km to the ferry. Cross to Bere-island for 20 mins, then walk the loop around Bere-Island. This is a very historic island. Being a British naval base until recently.This strategic island played a role in history's major wards. There are many artefacts, watch out towers, guns, training camps, military houses, light houses, old signal towers, as well as ancient megalithic and wedge tombs. Return to Goldwater via the ferry. Delightful walk.
Walk 4: (9km Dursey Island)
Exhilerating experience, walk through time as this enthralling walk takes you to where time began, on the western tip of Dursey Island, A bus/taxi can be got from Goldwater, then take the cable car for a half km over the sea to the island, and walk the marked loop walk. Now a national heritage area, and renowned for bird watching, the derelict cottages and huts, are testimony of a different era. The written word cannot describe adequately this walk. Your map of the walk will also contain the history of the island. A must walk.
CYCLING
Beara is the ideal location for some cycling during your holiday. Bicycles can be hired locally. We can provide you at Goldwater with a special cycling map, giving details of the routes, distance and on route information. There is no start or finish to the Beara cycling route, which is a 138 km long, and this gives the cyclist the opportunity to pick his or her own routes. The routes are based mainly on quieter country roads, which take you closer to the scenery. The routes are sign-posted with a special logo and bicycle symbol. This is a beautiful way to discover the undiscovered, hidden corners of the majestic Beara Penninsula.
SAILING
Learn to sail, drive a power boat or improve your nautical skills at West Cork Sailing Centre, in Adrigole.
SHORE ANGLING
There are numerous safe fishing spots which are especially designated for fishing off the Beara coastline.
DEEP SEA ANGLING
Boats may be hired locally and experienced guides are available by prior arrangement.
GOLF
For those who prefer tranquillity and sport, there is a nine hole golf course in Castletownbere and Glengarriff.
HORSE RIDING
Horse riding is available locally at the famous Dunboy Castle and at Allihies Stables.
BEACHES
There is a beautiful shingle beach just a couple hundred meters through the fields from Goldwater Holiday Cottages. There are other beaches, as well as the famous Ballydonegan Beach near Allihies
Drive the amazing Healy Pass and the ring of Beara. Stop off at Dursey sound and take the spectacular trip by cable car to Dursey Island.
For the Archaeologically minded, there are many sites to visit. Ogham stones, stone circles, forts etc.

Place's of Interest and other pursuits
Trout fishing at Glenbeg near Ardgroom and Derryvegal lakes, visit the highest waterfall in Ireland near Hungry Hill, Adrigole.
Take a trip to Bere Island and see its ancient Military bases.
Visit Dunboy Castle (the home of O'Sullivan Bere).
Beara also boasts two famous gardens, The Italian Gardens on Garnish Island, Glengarriff and Dereen Tropical Gardens in Lauragh.
MEDITATION
Dzogchen Beara is a world famous Tibetan Buddhist retreat centre. Visitors are always welcome to visit the centre. It is located high on the cliff tops and affords spectacular views of the Atlantic....well worth a visit!!!
ART GALLERIES
Beara is the home of the worlds finest Artists. This is because they find peace and tranquillity of the area inspirational. Many of these Artists welcome visitors into their homes/Galleries
Make an Enquiry to Check Availability for this Property
STEP 2: Make a Booking Enquiry
Click the button below to make a booking enquiry on this property.

Property Pricelist
| Date | Rate for 1 Week | Minimum Stay |
| --- | --- | --- |
Property Summary
Goldwater Holiday Cottages are situated in a truly majestic location overlooking Bantry Bay to the South and panoramic views of spectacular Hungry Hill and the surrounding mountains.
Tips for writing reviews
Was the property clean and well maintained ?
Were the facilities and amenities the same as described ?
Would you recommend this property to someone else ?

Reviews

No reviews found
You might also like...
Description
This house is one of a traditional island style holiday village comprising two clusters of four detached houses each located on a hillside overlooking the beautiful Marina full of yachts and the historic harbour of Berehaven.
Type
Sleeps
Pricelist
Info
Holiday Homes
5

Pricelist


Hide this Box

Period
Duration
Price
2 NIGHT WINTER BREAK
Mon 4th Nov - Thu 19th Dec '13
Any 2 Nights
€265.00
3 NIGHT WINTER BREAK
Mon 4th Nov - Thu 19th Dec '13
Any 3 Nights
€270.00
4 NIGHT WINTER BREAK
Mon 4th Nov - Thu 19th Dec '13
Any 4 Nights
€279.00
5 NIGHT WINTER BREAK
Mon 4th Nov - Thu 19th Dec '13
Any 5 Nights
€285.00
6 NIGHT WINTER BREAK
Mon 4th Nov - Thu 19th Dec '13
Any 6 Nights
€290.00
7 NIGHT WINTER BREAK
Mon 4th Nov - Thu 19th Dec '13
Any 7 Nights
€295.00
CHRISTMAS ON BERE ISLAND
Sat 21st Dec - Sat 28th Dec '13
7 Nights
€407.00
€320.00
3 NIGHT NEW YEAR BERE ISLAND BREAK
Sat 28th Dec - Sat 4th Jan '14
Any 3 Nights
€395.00
7 NIGHT NEW YEAR BERE ISLAND BREAK
Sat 28th Dec - Sat 4th Jan '14
Any 7 Nights
€420.00
Description
Perfectly situated on the outskirts of beautiful Glengarriff Town in West Cork, Dalewood Holiday Homes are the ideal choice for your holiday.
Type
Sleeps
Pricelist
Info
Holiday Homes
6

Pricelist


Hide this Box
Description
Beautiful Ardgroom Leisure Village is nestled within the picturesque village of Ardgroom, Co. Cork on the spectacular Beara Peninsula. SAOR VIEW now installed in all houses for excellent TV reception & Broadband also available..
Type
Sleeps
Pricelist
Info
3 Bedroom Holiday Home
6

Pricelist


Hide this Box

Period
Duration
Price
2 NIGHT WINTER WEST CORK BREAK
Mon 4th Nov - Fri 20th Dec '13
Any 2 Nights
€250.00
7 NIGHT WINTER WEST CORK BREAK
Mon 4th Nov - Fri 20th Dec '13
Any 7 Nights
€275.00
CHRISTMAS IN WEST CORK
Sat 21st Dec - Sat 28th Dec '13
7 Nights
€399.00
€299.00
3 NIGHT WEST CORK NEW YEAR BREAK
Sat 28th Dec - Sat 4th Jan '14
Any 3 Nights
€299.00
7 NIGHT WEST CORK NEW YEAR BREAK
Sat 28th Dec - Sat 4th Jan '14
Any 7 Nights
€320.00