Sean Ogs Holiday Homes
Property Details for Sean Ogs - 3 bed
Property Type
Holiday Homes
Travel Location
Kilmuckridge, Co. Wexford
Capacity
Sleeps up to 7
Pricelist
Pricelist
Hide this Box
Star Rating

Price
€785.00 - €785.00

DE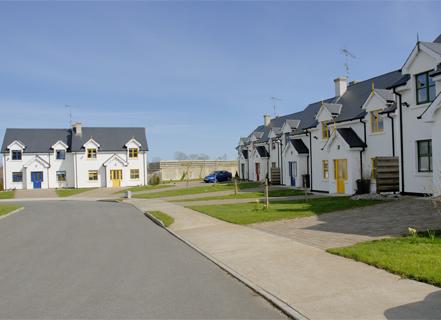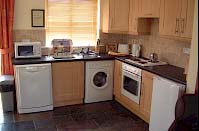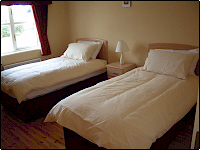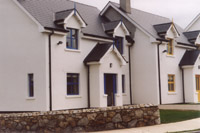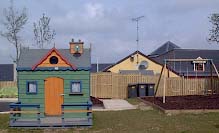 Description
Facilities




Linen Provided
Television
Cooker
Microwave
Pub
Restaurant
Washer/ Dryer
Dishwasher
Hotel onsite
Sleeps up to 7 people
Here in the heart of the Sunny South East built in the landscaped garden of Seán Óg's Hotel are Seán Óg's Holiday Cottages (Bord Failte Approved 4 star).
The three bedroomed houses comprise of 1 triple bedrooom downstairs with 1 double and 1 single bed. Upstairs, there is 1 master double bedroom ensuite and 1 twin room.
There is also 1 x 4-bedroomed house comprising of 1 double ensuite , 1 double and 1 twin room located upstairs. There is 1 triple room downstairs which has 1 double and single bed.
The online availability for the 3-beds also applies to the 4-beds
All houses come complete with Jacuzzi for added luxury and they can accommodate seven to nine people. All of the cottages have fireplaces, storage heating and double glazing giving additional luxury, comfort and warmth. They each have fully fitted and spacious living rooms with television. All units are wheelchair friendly. Unfortunately pets are not accepted. Guests of the Holiday Cottages can also avail of the welcoming facilites of Sean Og's bar & restaurant.
Houses are equipped with a dishwasher, washing machine, cooker, microwave, kitchen utensils, fridge with a small freezer box, central heating and colour TV. Personal towels and linen are supplied.
Electricity is charged at 7.00 euro per day
A security deposit of E100.00 must be given to the supervisor on arrival. This will be returned to you provided the supervisor is satisfied that the terms and conditions of the rental have been complied with.
There is a manager on site in charge of the holiday homes who will meet and greet you upon your arrival and will give you the keys to your house. During your stay the manager will endeavour to assist you in every way. You will find a folder in your property, which contains useful hints and tips about how things work and information on activities and amenities in the local area etc.
LOCATION
Kilmuckridge is located on the coast road, east of Enniscorthy and South of Gorey and Courtown. This picturesque village serves the popular Morriscastle which as the name suggests was once the site of a Medieval Norman Castle.
The village's popularity as a beach resort, which recently received Ireland's first environmental Green Coast Award, and its excellent fishing waters have ensured the development of some great tourist facilities. This old style village, formerly known as 'Ford', boasts many historical buildings and a host of award winning restaurants and pubs.
Kilmuckridge and Morriscastle form a rich and exciting area to explore with a wealth of historical and natural interests.
The beautiful beach is host to many rare flora and fauna and is a National Heritage Site.
The village and the surrounding townslands provide a journey of discovery of Irish history from the 17th plantations to the more recent foundation of the state. Days may be spent in leisurely walks of discovery interspaced by languid days on the beach. A haven just off the N11.
Seán Óg's Hotel is ideal for Summer, Autumn or indeed Winter Vacations or Breaks. With stunning beaches, fishing and walking on the doorstep. For golfers we are the ideal location with more than seven outstanding courses within 40 minutes drive, while some are only minutes away.
On our doorstep you find Kilmuckridge Village with supermarkets, pubs, restaurants and all family amenities. Breathtaking charm and peaceful countryside surround our hotel and holiday cottages.
Kilmuckridge Village – 1 minute
Morriscastle Golden Mile Beach – 5 minutes
Gorey – 20 minutes
Wexford – 20 minutes
Rosslare – 45 minutes.
Dublin City and Dunlaoghaire Ferry – 80 minutes
The online availability for the 3-beds also applies to the 4-beds
STEP 1 (Optional): Check Property Availability Calendars

Available

Not Available

Date Has Past

On Request Basis Only
---
December 2013
Sat
Sun
Mon
Tue
Wed
Thu
Fri
1
2
3
4
5
6
7
8

9

10

11

12

13

14

15

16

17

18

19

20

21

22

23

24

25

26

27

28

29

30

31

January 2014
Sat
Sun
Mon
Tue
Wed
Thu
Fri

1

2

3

4

5

6

7

8

9

10

11

12

13

14

15

16

17

18

19

20

21

22

23

24

25

26

27

28

29

30

31

February 2014
Sat
Sun
Mon
Tue
Wed
Thu
Fri

1

2

3

4

5

6

7

8

9

10

11

12

13

14

15

16

17

18

19

20

21

22

23

24

25

26

27

28

STEP 2: Choose Your Dates and Check Price
| | | |
| --- | --- | --- |
| Tip: Choose a Saturday Arrival for best rate in July & August. | | |
STEP 3: Make a Booking
Click the button below to proceed to our secure server and make your booking. We guarantee that the booking process is 100% secure.
Property Pricelist
| Date | Rate for 1 Week | Minimum Stay |
| --- | --- | --- |
| 2nd Nov '13 to 20th Dec '13 | €440.00 | 1 week |
| 21st Dec '13 to 27th Dec '13 | €785.00 | 1 week |
| 28th Dec '13 to 3rd Jan '14 | €785.00 | 1 week |
Property Summary
Sean Ogs Holiday Homes are located in the grounds of Sean Ogs Hotel, Bar & Restaurant in the popular Wexford town of Kilmuckridge. They are just a short drive from the golden sandy Morriscastle Beach.
Tips for writing reviews
Was the property clean and well maintained ?
Were the facilities and amenities the same as described ?
Would you recommend this property to someone else ?

Reviews

No reviews found
You might also like...
Description
Each of these bright and spacious holiday homes sleeping 5 or 6 people, is fully detached and is located on its own private site with an enclosed garden. This is an ideal location for families to get away from the hustle and bustle of city life.
Type
Sleeps
Pricelist
Info
Mezzanine Houses
5

Pricelist


Hide this Box
Sunroom Houses
6

Pricelist


Hide this Box