The Courtyard at Sheen Falls Country Club Kenmare -
Kenmare Co. Kerry

GUARANTEED LOWEST PRICES!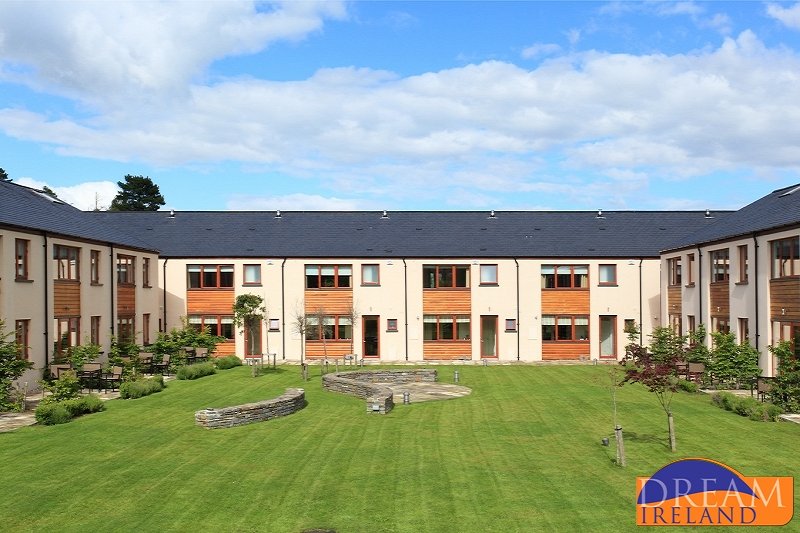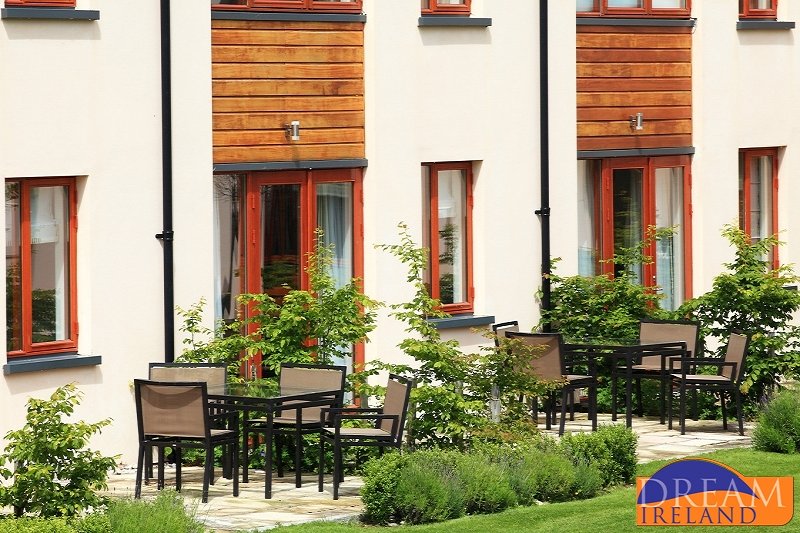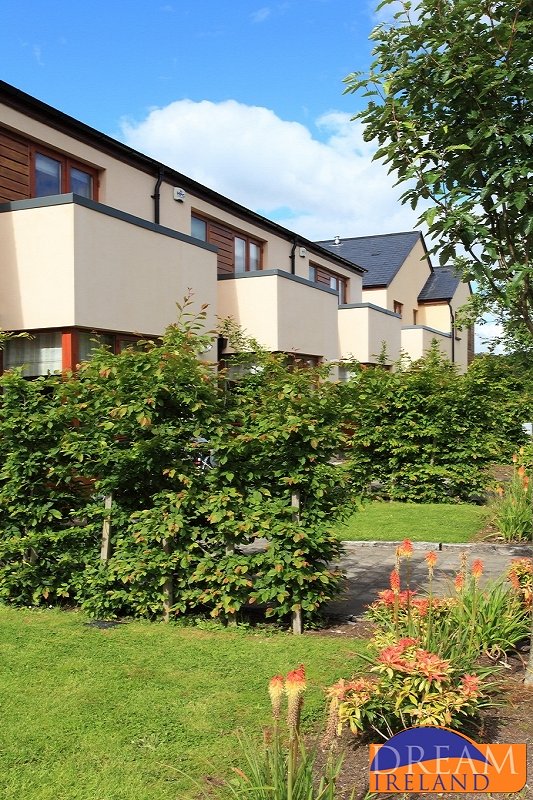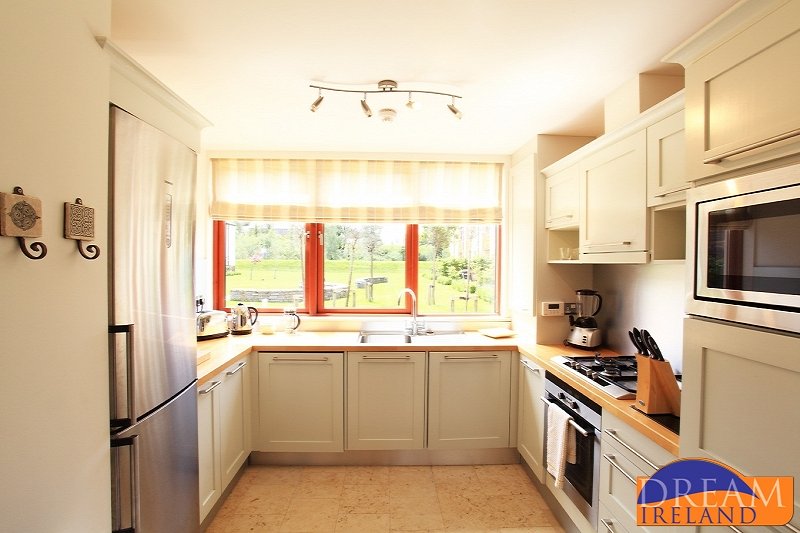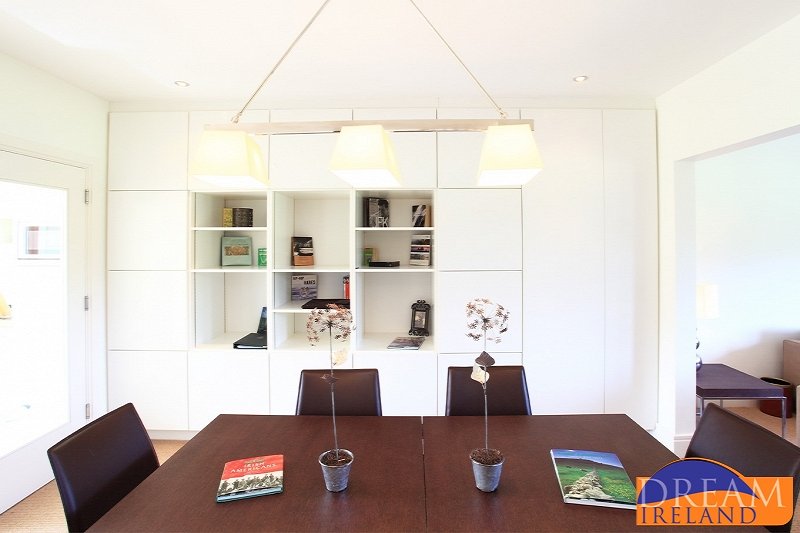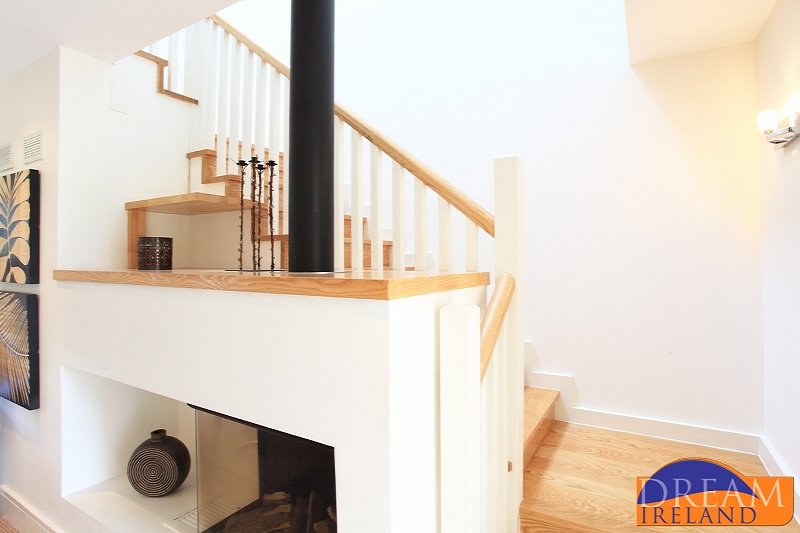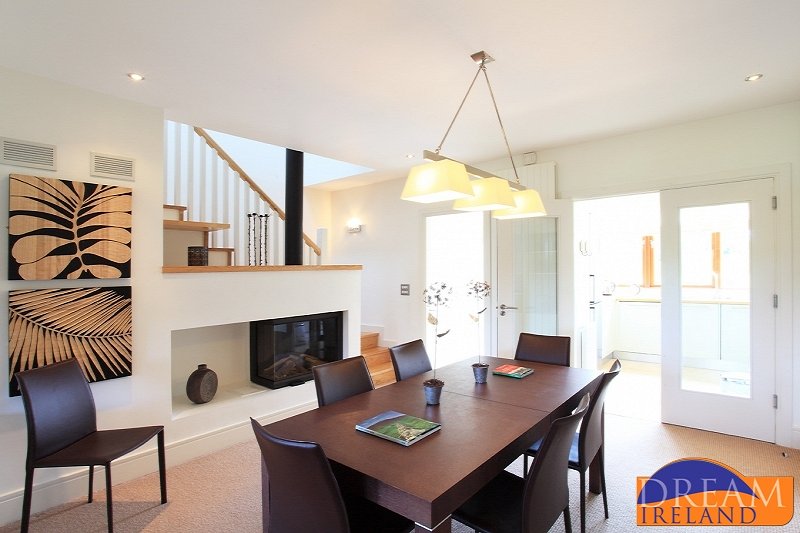 The Courtyard at Sheen Falls Country Club comprises twenty luxury townhouse-style holiday homes alongside the five star Sheen Falls Lodge Estate in Kenmare, Co. Kerry.
These modern holiday homes each have 3 bedrooms and can comfortably accommodate up to 5 people. There is one large master double bedroom with ensuite bathroom, another bedroom that can be made up as either a double or a twin bedroom. In addition there is a third bedroom with a single bed. The main bathroom is located upstairs as are all the bedrooms. Please note that each house is set as a double, twin and single as standard. Please specify prior to arrival if you require a different setup.
There is one 4 bedroom townhouse, this can accommodate up to 8 people. There are 2 double bedrooms and 2 bedrooms with zip 'n' link beds (can be either made into a double or twin - please specify on booking). One of the bedrooms is located downstairs and has ensuite, this is a wheelchair accessible room. The other three bedrooms are located upstairs and are all ensuite with tv in each room. Please note that this house is set as three doubles and one twin bedroom as standard. Please specify prior to arrival if you require a different setup.
The kitchen is fully fitted and has a gas hob and oven. The sitting room is bright and spacious and is luxuriously finished with high quality furnishings.
PLEASE NOTE THE FOLLOWING IMPORTANT INFORMATION
While guests of The Courtyard are welcome to use the bar and restaurant at Sheen Falls Lodge Hotel, the leisure facilities and swimming pool are for use by hotel residents only. The Kenmare Bay Hotel in town offers pay as you go passes.
GPS Co-Ordinates
(51.86970795368951, -9.579133987426757)
PETS
Pets are not allowed at The Courtyard at Sheen Falls Country Club however kennels are available locally in Kenmare. Call Shane Dignam on 087 9196660.
HOTEL EVENTS
Please note that on certain dates there are events being held in the Hotel which will mean that guests of The Courtyard at Sheen Falls Country Club and the Cottages onsite will not be permitted to use the Hotel's facilities i.e. bar or restaurant.
LOCAL ACTIVITIES
Kenmare lies approximately 30 minutes drive from a host of sandy beaches and it has a very pretty harbour from where you can swim, fish or take a trip on the "Seafari Cruise" to view the wildlife in the area.
Eclipse Ireland Centre
Eclipse Ireland, a custom built family orientated Equestrian and Adventure Centre is partnered with Sheen Falls Lodge to provide guests an abundance of Equestrian and Adventure Activities catering for the most discerning guest that includes horse riding ∙ archery ∙ mud surfing ∙ assault course ∙ kayaking ∙ orienteering ∙ team games ∙ raft building ∙ cycling ∙ fishing on Eclipse Lake and much more ∙ Take lessons in any of these activities from their qualified instructors ∙ You can also enrol your children on one of their superb pony and activity camps.
Horse lovers will be in their element as there is excellent off-road trekking over the estate's own beautiful trails set against a magnificent mountain and river backdrop.
www.eclipseireland.com Dromore Old, Kenmare tel. 064 66 82965
Star Sailing & Adventure Centre
This new purpose-built Activity Centre and Bar/Restaurant is fast becoming an essential part of a family holiday in Kenmare. The centre itself is situated on the shores of Kenmare Bay and surrounded by the Caha Mountains just a five minute drive from Kenmare Town Centre. The activities on offer include kayaking, sailing, canoeing, sea kayaking, hillwalking, team games and a Wildlife Safari Cruise on Kenmare Bay. Also available are the children's playground, American pedal boats, water trampoline and slide, archery range, soccer pitch with changing facilities and the family walking trail. Star Sailing and Adventure Centre, Dauros, Kenmare, Co. Kerry 064 66 41222.
BONANE HERITAGE PARK
The Bonane Heritage Park provides visitors with an 1600 metre walk on gravel paths through 5000 years of history while enjoying some breathtaking scenery. Bonane Heritage Park is situated 10Km from Kenmare on the N71 and is open to visitors all year round.
Golf
Kenmare boasts two super golf courses. The Ring of Kerry Golf Course is located two miles outside of the town and offers spectacular views of Kenmare Bay from the course itself and also its newly renovated Club House. Dream Ireland guests may avail of special discounted green fees.
Kenmare Golf Club is located in Kenmare Town and follows the shores of Kenmare Bay Estuary.
Angling
There are lots of great fishing spots to choose from around Kenmare including Clonee Lake, Kenmare Bay and the Black Valley. Permits can be obtained locally.
Hill Walking
The Kerry Way and Beara Way walking routes are ideal for those with an interest in trekking or you could even join the annual summer hike to Ireland's highest mountain, Carrauntouhil. The foothills of the famous MacGillycuddy Reeks are right on Kenmare's doorstep.
Diving
Kenmare and its vicinity offers some incredible dive spots and wrecks. You may even be lucky enough to come across a dolphin or two. Try-dives are available for beginners and advanced dives for the more experienced. For more information visit Kenmare Diving
Pony Trekking
Pony Trekking is the ideal way to explore the hidden treasures of Kenmare and its hinterland. Professional lessons are also available for beginners.
Other activities in the area include quad biking, pet farms, craft workshops and bicycle hire.
KENMARE
Kenmare is known as the jewel in the Ring of Kerry and no wonder with its location between two of the most beautiful touring routes in Europe - the Ring of Kerry and the Ring of Beara. These make for very enjoyable day trips from Kenmare.
Kenmare is a designated Heritage Town of Ireland and the town offers a huge selection of places of historical interest to visit. Even strolling around the town is itself a pleasure with Kenmare having received awards from Entente Floral and the award for the Tidiest Town in Ireland in the year 2000. Kenmare was recently awarded the accolade of Ireland's best kept town on the whole island of Ireland and deservedly so!
Killarney is a 40 minute drive and Cork City is just over an hour's drive.

DINING & NIGHTLIFE
The town of Kenmare, noted for having the cleanest air in Europe, is a mecca for some of the finest restaurants in Ireland. You really will be spoilt for choice when it comes to dining out, from bar food to seafood and a range of other types of excellent restaurants to experience. The nightlife in Kenmare suits all ages and the hospitality with which you will be greeted is second to none. There is a great selection of pubs and late night bars to choose from with many featuring live music from traditional Irish to rock and modern styles.
PROPERTY SUMMARY
---
Family Friendly
Activity and Adventure
Wi-Fi
FACILITIES
---
Linen Provided
Television
Cooker
Microwave
Hairdryer
Central Heating
Restaurant
DVD Player
Shared Garden
Patio Furniture
Private Terrace
Washer/ Dryer
Towels Provided
Dishwasher
Gas Fire
Non-Smoking
Beauty Therapists
No pets allowed
Hotel onsite
Internet Access
4 ring hob
Childrens playground close by
Iron & Ironing Board
Wi-Fi
Cot available on request
Highchair available
Property Location
The Courtyard at Sheen Falls Country Club Kenmare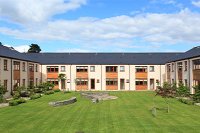 STEP 1 (Optional): Check Property Availability Calendars

Available

Not Available

Date Has Past

On Request Basis Only
April 2017
Sat
Sun
Mon
Tue
Wed
Thu
Fri
1
2
3
4
5
6
7
8
9
10
11
12
13
14
15
16
17
18
19
20
21
22
23
24
25
26
27
28
29

30

May 2017
Sat
Sun
Mon
Tue
Wed
Thu
Fri

1

2

3

4

5

6

7

8

9

10

11

12

13

14

15

16

17

18

19

20

21

22

23

24

25

26

27

28

29

30

31

June 2017
Sat
Sun
Mon
Tue
Wed
Thu
Fri

1

2

3

4

5

6

7

8

9

10

11

12

13

14

15

16

17

18

19

20

21

22

23

24

25

26

27

28

29

30
STEP 2: Choose Your Dates and Check Price
At many of our properties it is best to select a Saturday arrival date to get the best rate for July & August bookings.
STEP 3: Make a Booking
Click the button below to proceed to our secure server and make your booking.
We guarantee that the booking process is 100% secure.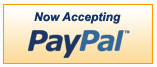 Property Pricelist
| Date | Rate for 1 Week | Minimum Stay |
| --- | --- | --- |
| 1st May '17 to 16th Jun '17 | €850.00 | 2 nights (for €400.00) |
| 17th Jun '17 to 30th Jun '17 | €950.00 | 1 week |
| 1st Jul '17 to 3rd Sep '17 | €1,300.00 | 1 week |
| 4th Sep '17 to 23rd Sep '17 | €950.00 | 2 nights (for €350.00) |
| 24th Sep '17 to 27th Oct '17 | €695.00 | 2 nights (for €350.00) |
| 28th Oct '17 to 4th Nov '17 | €695.00 | 2 nights (for €350.00) |
| 5th Nov '17 to 16th Dec '17 | €695.00 | 2 nights (for €350.00) |
| 17th Dec '17 to 6th Jan '18 | €995.00 | 1 week |
Add Review
---
Property Summary
The Courtyard at Sheen Falls Country Club comprises twenty luxury townhouse-style holiday homes alongside the five star Sheen Falls Lodge Estate in Kenmare, Co. Kerry.
Tips for writing reviews
Was the property clean and well maintained ?
Were the facilities and amenities the same as described ?
Would you recommend this property to someone else ?

---
Traveled With :
Family with young children
We are already planning our return trip!
I am sending you this as I sit looking out on the beautiful Sheen Falls waterfall. We have had a wonderful holiday staying in The Courtyard. Our house was absolutely beautiful and the staff here in the hotel have been wonderful. Also yourselves in Dream Ireland have been great. We are already planning our return visit next year. Thanks once again for a wonderful holiday at home!!
---