Toormore House
Property Details for Toormore House
Property Type
Holiday Homes
Travel Location
Schull West Cork, Co. Cork
Capacity
Sleeps 3
Pricelist
Pricelist
Hide this Box
Star Rating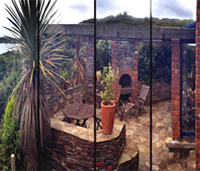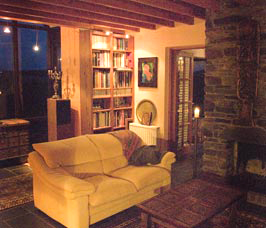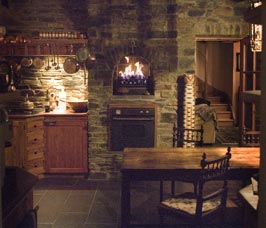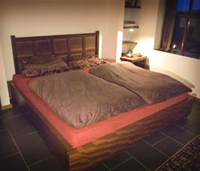 Description
Facilities




Linen Provided
Television
Cooker
Hairdryer
Vacuum Cleaner
Central Heating
Private Garden
Sea View
DVD Player
Stereo
Underfloor Heating
Patio Furniture
Patio Area
Private Terrace
Satellite TV
Washer/ Dryer
Towels Provided
Dishwasher
Open Fire
Barbeque
No pets allowed
Coffee Machine
Internet Access
Toormore House is a luxurious secluded oceanview holiday rental house and cottage. Next to the Atlantic Ocean, with an intimate beach, secluded gardens, palm trees and every luxury you find in a house here it is easy to unwind in style.
Toormore House is not a typical self catering holiday rental cottage. It is an authentic house with a very personal touch, filled with handmade oak furniture, books and art which is used regularly by its owner, an internationally working artist.
It is located close to Schull and features a thrilling oceanview, intimate sandbeach, palmtrees, and gardens.
More than 15 years ago the artist came to work on an art project in the Southwest of Ireland. Finding peace and serenity and a refined lifestyle which can only be found in a few places on earth, he built his dreamhouse in a very special location. Not only right next to the Atlantic Ocean it also has direct view on the Fastnet Lighthouse and a 4000 year old stone tomb.
Here he found a place where one can still discover secret places, be enchanted by the grace of thousand year old forests and explore ancient castles and stone circles. Here where people still take the time to chat, it is possible to withdraw from the hectic modern life and to relax, be creative or even find oneself.
His house is located at the sunny South West Coast of Ireland, the most demanded area of Ireland. Cork airport is 50 miles away, the next little town (Schull) is 4 miles away.
It is surrounded by unspoiled nature on several acres of own coastal land, right at the Atlantic Ocean. Cats, foxes and badgers made their home on this huge property and cows, sheep and donkeys are your close-by neighbours. All you see from the windows is the sky and the blue of the water, all you hear is the wind and the ocean and from time to time the call of a seagull.
Because of the Gulfstream, the climate is extremely mild (palm trees in front of the house) and most of the year is perfect for being outside.
Because this area is highly sought after by tourists (a sailors paradise) the coastal towns are bursting with charming pubs, first class restaurants, little shops and activities.
In short: If you want to withdraw and nourish your soul, be surrounded by cozy fireplaces, art, paintings, books, music and movies, handmade furniture, Persian carpets, a huge garden with palm trees, if you want to see, smell and feel the Ocean, breathe fresh air, hear nothing but the waves, this is the most amazing place to be.
Closest airport: Cork, 50 miles, see (www.corkairport.com) (Or Kerry) Direct flights by Aer Lingus, Ryan Air and others. Also there you will find all major rental car companies.
THE HOUSE
The house is in the most south- westerly part of Ireland, close to the village of Schull. It is right in front of the Atlantic Ocean with views of the world famous Fastnet Lighthouse as well as a 4000 year old stone tomb. Across the house is an intimate sand beach.
The main house is cozy and comfortable. It has two floors and features open fires in every corner, handmade oak and pine furniture, black natural stone slabs and Persian carpets. Underfloor heating, bathrooms en suite, reading room, open fire sitting area and conservatory offer all the space and comfort to relax, enjoy a book or just the silence.
The house has several rooms but is ideal for two persons. There is a very cozy living room with wooden beam ceiling, open fire and a natural stonewall (photo left), a meditation room (with a computer controlled Japanese massage bed), a master bedroom (photo left) and a guest bedroom.
Outbuildings can be used for different hobbies (such as painting) and are ideal for an artist. A wind protected mediterranean terasse with open fire is next to the kitchen.
A large handmade pitch-pine kitchen and glass conservatories, several fireplaces and cozy sitting and reading areas make this place very charming and special. Ocean view from every room. The house has its own well with fresh natural water.
An extensive collection of CD's, DVD's, books (English, Deutsch, Francais) and art make this place a place to relax and unwind.
PLEASE NOTE
This place is not for children: Original artwork, expensive Hifi systems, Persian carpets and handmade furniture are too delicate for children.
Make an Enquiry to Check Availability for this Property
STEP 2: Make a Booking Enquiry
Click the button below to make a booking enquiry on this property.

Property Pricelist
| Date | Rate for 1 Week | Minimum Stay |
| --- | --- | --- |
| 5th Jan '13 to 3rd Jan '14 | €1,875.00 | 1 week |
Property Summary
Toormore House is a luxurious secluded oceanview holiday rental house and cottage close to Schull in West Cork.
Tips for writing reviews
Was the property clean and well maintained ?
Were the facilities and amenities the same as described ?
Would you recommend this property to someone else ?

Reviews

No reviews found
You might also like...
Description
The Moorings is a small and exclusive holiday homes development in a delightful location overlooking the River Ilen on the Schull Road in Skibbereen, Co. Cork
Type
Sleeps
Pricelist
Info
3 Bedroom Holiday Home
5

Pricelist


Hide this Box

Period
Duration
Price
2 NIGHT WINTER BREAK
Mon 4th Nov - Thu 19th Dec '13
Any 2 Nights
€265.00
3 NIGHT WINTER BREAK
Mon 4th Nov - Thu 19th Dec '13
Any 3 Nights
€270.00
4 NIGHT WINTER BREAK
Mon 4th Nov - Thu 19th Dec '13
Any 4 Nights
€279.00
5 NIGHT WINTER BREAK
Mon 4th Nov - Thu 19th Dec '13
Any 5 Nights
€285.00
6 NIGHT WINTER BREAK
Mon 4th Nov - Thu 19th Dec '13
Any 6 Nights
€290.00
7 NIGHT WINTER BREAK
Mon 4th Nov - Thu 19th Dec '13
Any 7 Nights
€295.00
CHRISTMAS IN SKIBBEREEN
Sat 21st Dec - Sat 28th Dec '13
7 Nights
€732.00
€499.00
3 NIGHT NEW YEAR SKIBBEREEN BREAK
Sat 28th Dec - Sat 4th Jan '14
Any 3 Nights
€525.00
7 NIGHT NEW YEAR SKIBBEREEN BREAK
Sat 28th Dec - Sat 4th Jan '14
Any 7 Nights
€599.00

4 bedroom holiday home
7

Pricelist


Hide this Box