Mariannes Cottage at Sheen Falls Lodge
Property Details for Mariannes Cottage
Property Type
Cottage
Travel Location
Kenmare, Co. Kerry
Capacity
Sleeps up to 4
Pricelist
Pricelist
Hide this Box
Star Rating

Price
€4,165.00 - €4,170.00

DE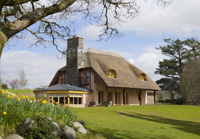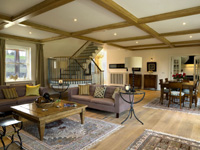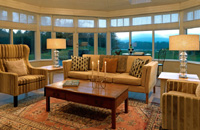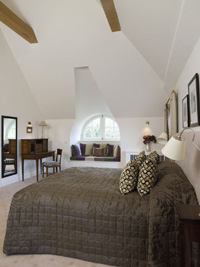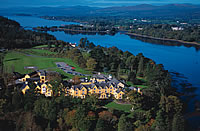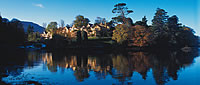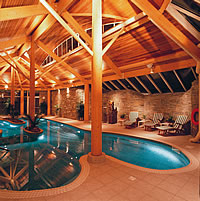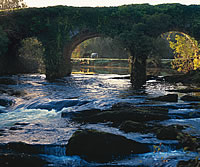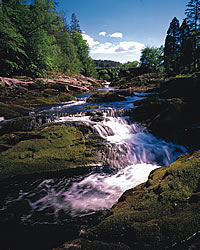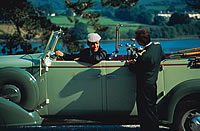 Additional Info

Description
Facilities




Linen Provided
Television
Cooker
Microwave
Hairdryer
Central Heating
Swimming Pool
Restaurant
Sea View
DVD Player
Washer/ Dryer
Towels Provided
Tennis
Dishwasher
Open Fire
Barbeque
Resort Spa
Beauty Therapists
No pets allowed
Hotel and Leisure Centre onsite
Internet Access
4 ring hob
Welcome Hamper
Garden Furniture
Iron & Ironing Board
Heating & Electricity included in rental price
Cot available on request
Marianne's Cottage is named after the founder of Sheen Falls Lodge, Mr Bent Hoyer's wife Marianne. Its location provides guests with the most stunning views onto Kenmare Bay. From the side aspect of the house the doors open out onto a thatched terrace overlooking the wooded Queens Walk.
From the moment you enter Marianne's Cottage an air of calm will come over you; traditionally styled, with log fires, the choice of furnishings blend the interior as beautifully as the natural landscape surrounding the cottage.
Both bedrooms are situated on the upper floor, feature open beam ceilings and offer either a king-size or twin beds with ensuite marble bathrooms. The master bedroom has both a step in shower and bathtub, whilst the guest bedroom has a step in shower. The bedrooms have patio doors leading out onto small private balconies. There is no space for additional beds in this house so the maximum capacity is 4 people.
Every care has been taken with Marianne's Cottage to provide natural light and views from every aspect of the cottage and inside your every need has been provided for. The sun room provides the perfect retreat throughout the day for reading, relaxation or just reclining and enjoying the magnificent views.
GPS Co-Ordinates
(51.86970795368951, -9.579133987426757)
ESTATE ACTIVITIES
Relish the freedom to enjoy the authentic woodland, meandering Sheen River and heather-covered mountains of the 300-acre private Estate on which Sheen Falls Lodge is superbly located.
Attune yourself to the refreshing river-side walks, entwining forest pathways, glistening waterfalls and a sensation of peace that, in essence, is unique to Sheen Falls Lodge.
The Estate, cradled between the Caha Mountains and the Kenmare Bay, hosts a multitude of historic tales. The ruins of a tiny church, known to date back to Viking times, can be found to the west of the Estate along with a Holy Well near the foreshore reputed to have distinctive healing properties.
An immense array of activities and interests, invigorating or relaxing, are at your disposal to ensure your visit to the Lodge leaves you with pleasant and fulfilled memories of your stay.
THE HEALTH CLUB
Welcome to the Health Club at Sheen Falls Lodge, Kenmare. The philosophy here, at the Health Club is to provide our guests with an escape from the stresses of every day life. It's a place where you can indulge in tranquil surroundings allowing you to relax, revitalise and invigorate your mind & body.
Soft classical music or the renditions of Jim Kiely (resident pianist) may be echoing softly throughout the Health Club where you can close your eyes and drift calmly into alpha theta phase quite happily.
The Health Club involves all of the senses, with extraordinary effects; through touch, smell, sight, hearing and taste, the effects of the treatment reach the most profound states of mind, and finally reach the fantastic level of relaxation. The Health Club at the 5 star Sheen Falls Lodge has chosen YonKa as our signature beauty line. We offer Massage Therapy with Aromatherapy body massages, Swedish massages and Reiki amongst others. The Health Club also offers Face Treatments, Body Treatments and Beauty Treatments and extensive Fitness Facilities which includes an indoor swimming pool (15 metres), a gymnasium, a spacious Jacuzzi and a Sauna.
Please note children are welcome to use the pool between the hours of 8-11am and 5.30-7.30pm daily but at all other times the pool is reserved for adult use only.
Christmas Day lunch:
Lunch is available at Sheen Falls hotel to non-residents at €95 per person.
Local Taxi Firms
Easy Taxi Kenmare operate a local taxi service.
DATES HOTEL WILL BE CLOSED

The hotel will be closed for a Wedding or Private Function on the following dates. Check ins or Check outs are not possible on these dates.

September 28th
October 19th
November 2nd and the 8th
December 13th

The Leisure Centre will be available on these dates.
Christmas Details at Sheen Falls Lodge

Christmas Eve:

Non-Residents/ Courtyard/ Mountain View guests are welcome to book tables in La Cascade Restaurant. Normal €55.00 menu will be available for lunch in the restaurant. The bar and health club/spa treatments are available also.




Christmas Day:

Non-Residents/ Courtyard/ Mountain View guests can check in on the 24th December or before, however there is no check-in or check-out on Christmas Day.

Christmas Lunch is available at the hotel and is served at 12 pm, however this must be booked in advance. The charge is Euro 95.00 per person and also includes use of the bar.

The hotel is closed from 3pm onwards on this day.

There will be no treatments available at the Health Club on Christmas Day. The Health Club will be closed.




St. Stephens Day:

Non-Residents/ Courtyard/ Mountain View guests can check in or out.

Non-Residents/ Courtyard/ Mountain View can avail of the bar for lunch and drinks but must vacate by 6.30pm.

Please be aware that the hotel bar and restaurant in the evening is closed.

There will be treatments available at the Health Club on St. Stephens Day. The Health club will be open from 9am-6pm




27th December til the 30th December:

Non-residents and Courtyard / Mountain View guests will have full access to restaurant, bar and health club.




New Years Eve - 31st December -

Non-Residents/ Courtyard/ Mountain View guests have access to the hotel, bar, health club and treatments. Dinner must be pre-booked in the Restaurant at €85 person and includes a glass of champagne at midnight. Music is by pianist Jim Kiely.




New Years Day:

Non-residents/ Courtyard/ Mountain View guests have full access to bar, heath club and treatments. Tables can be booked at La Cascade Restuarant with the normal €55 euro menu available.




2nd January - Hotel Closed:

The restaurant will be closing after breakfast and the health club will close at 12 noon. The Bar will be closed all day.
STEP 1 (Optional): Check Property Availability Calendars

Available

Not Available

Date Has Past

On Request Basis Only
---
September 2012
Sat
Sun
Mon
Tue
Wed
Thu
Fri
1
2
3
4
5
6
7
8
9
10
11
12
13
14
15
16
17
18
19
20
21
22
23
24
25
26
27
28
29
30

October 2012
Sat
Sun
Mon
Tue
Wed
Thu
Fri
1
2
3
4
5
6
7
8
9
10
11
12
13
14
15
16
17
18
19
20
21
22
23
24
25
26
27
28
29
30
31

November 2012
Sat
Sun
Mon
Tue
Wed
Thu
Fri
1
2
3
4
5
6
7
8
9
10
11
12
13
14
15
16
17
18
19
20
21
22
23
24
25
26
27
28
29
30

STEP 2: Choose Your Dates and Check Price
| | | |
| --- | --- | --- |
| Tip: Choose a Saturday Arrival for best rate in July & August. | | |
STEP 3: Make a Booking
Click the button below to proceed to our secure server and make your booking. We guarantee that the booking process is 100% secure.
Property Pricelist
| Date | Rate for 1 Week | Minimum Stay |
| --- | --- | --- |
| 1st Oct '13 to 3rd Jan '14 | €4,165.00 | 1 nights (for €595.00) |
| 1st Feb '14 to 31st Mar '14 | €4,165.00 | 1 nights (for €595.00) |
| 1st Apr '14 to 30th Sep '14 | €4,170.00 | 4 nights (for €2,780.00) |
| 1st Oct '14 to 2nd Jan '15 | €4,165.00 | 1 nights (for €595.00) |
Tips for writing reviews
Was the property clean and well maintained ?
Were the facilities and amenities the same as described ?
Would you recommend this property to someone else ?

Reviews

No reviews found
You might also like...
Description
Little Hay Cottage a most enchanting two storey thatched residence on the estate of Sheen Falls Lodge with the option to included the adjoining guest accommodation at Garden Cottage.
Description
Located just steps from Sheen Falls Lodge this is a lovely quaint cottage which can be rented on its own or along with Little Hay Cottage.
Description
Sitting majestically, The Green is a self catering residence with magnificent views overlooking Kenmare Bay and the 16th Green of Kenmare Golf Course.
Type
Sleeps
Pricelist
Info
Detached House
10

Pricelist


Hide this Box
Description
Bay Villas is a cluster of thatched, four bedroom villas, each situated in their own private grounds with stunning views over The Kenmare Bay, yet only a short stroll from Sheen Falls Lodge.