Willow Wood at Faithlegg House Hotel
Property Details for Willow Wood Faithlegg - 4 bed
Property Type
4 bedroom holiday home
Travel Location
Cheekpoint, Co. Waterford
Capacity
Sleeps up to 6
Pricelist
Pricelist
Hide this Box
Star Rating

Price
€599.00 - €599.00

DE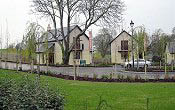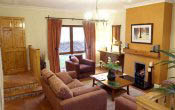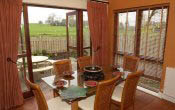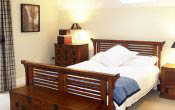 Additional Info
Description
These holiday homes are set in mature woodland and are split level in design. They have extremely spacious reception and living areas. The dining area has double doors leading to an attractive patio. The kitchen has superbly crafted units and is equipped with every modern convenience. Spacious cloakrooms can accommodate a variety of sporting equipment.
We offer two type of Holiday Homes at Willow Wood:
THREE BEDROOM HOLIDAY HOMES
The three bedroom holiday homes can accommodate up to 4 people in 1 x double bedroom and 2 x single bedrooms.
Please note that due to limited availability during the months of July and August we cannot show live availability online however if you wish to make an enquiry for these months then please send us an email to info@dreamireland.com or call us on 064 66 41170 (+353 64 66 41170 international). For all other dates please refer to rates and availability below.
FOUR BEDROOM HOLIDAY HOMES
The four bedroom holiday homes can accommodate up to 6 people in 1 x double bedroom, 1 x twin bedroom and 2 x single bedrooms.
PROPERTY FACILITIES
Cable TV, dishwasher, washer/dryer. Bed linen provided.
One of the 4 bed houses has FREE Wifi access. Please check with our office 064-6641170 if this particular house is available before booking.
These superb houses are further complemented by the adjoining championship golf course, tennis court (please bring along your own equipment) and the wonderful Faithlegg House Hotel which boasts an excellent restaurant and exceptional social and leisure facilities.
The grounds of Faithlegg House have matured over centuries with fine trees and specimen shrubs. From your accommodation at Willow Wood you can enjoy panoramic views of Faithlegg Golf Course and the surrounding woodlands.
Electricity is taken by meter reading on arrival and again on departure and is an extra charge.
Gas Heating is taken by meter reading. This is payable on departure.
THE ESTUARY CLUB
On site amenities that are available at the nearby Faithlegg House Hotel include an indoor swimming pool, spa, jacuzzi, sauna and steam room, gymnasium, massage treatment, aromatherapy, beauty treatments, sunbed and tanning facilities. Please note that charges apply for use of all leisure facilities. The charges and available times for the Estuary Club Leisure Centre are as follows:
Swimming Pool
Mews Guests may use the pool between the hours of 9am and 6pm
Adults/Teenagers are charged at the rate of €10.00 euro per person per stay
Children under the age of 12 are charged at the rate of €5.00 euro per child per stay
Weekly Membership (2 adults and 2 children) is 25.00E.
Please note: Gymnasium, Sauna, Steam Room and Jacuzzi are for use by Adults only.
LOCAL ACTIVITIES
Nearby there is a wealth of diverse attractions and activities such as:
The wonderful sandy beaches of Dunmore East & Woodstown
Waterford City with its wide range of shops, restaurants and pubs.
Waterford Treasures Exhibition at the Granary.
You can enjoy swimming, angling or walking in the picturesque fishing village of Dunmore East, only a short drive from Faithlegg. Tramore, just 20 minutes drive, has an endless sandy beach, many water sports and horse racing.
Faithlegg Hotel Christmas and New Years details

Faithlegg Hotel will be closed from 22nd December -27th December. The leisure centre will be closed from the 24th -27th December. There is a Gala Dinner with music afterwards on New Years Eve. It is 65.00E per person and must be prebooked. The Leisure centre has restricited hours New Years day.
Faithlegg Hotel and leisure centre closed January

Faithlegg hotel is closed from 04th January - 01st February 2014. There will be no bar and restaraunt available. They do accept check ins for the self catering . The leisure centre is opened as normal.
STEP 1 (Optional): Check Property Availability Calendars

Available

Not Available

Date Has Past

On Request Basis Only
---
July 2013
Sat
Sun
Mon
Tue
Wed
Thu
Fri
1
2
3
4
5
6
7
8
9
10
11
12
13
14
15
16
17
18
19
20
21
22
23
24
25
26
27
28
29
30
31

August 2013
Sat
Sun
Mon
Tue
Wed
Thu
Fri
1
2
3
4
5
6
7
8
9
10
11
12
13
14
15
16
17
18
19
20
21
22
23
24
25
26
27
28
29
30
31

September 2013
Sat
Sun
Mon
Tue
Wed
Thu
Fri
1
2
3
4
5
6
7
8
9
10
11
12
13
14
15
16
17
18
19
20
21
22
23
24
25
26
27
28
29
30

STEP 2: Choose Your Dates and Check Price
| | | |
| --- | --- | --- |
| Tip: Choose a Saturday Arrival for best rate in July & August. | | |
STEP 3: Make a Booking
Click the button below to proceed to our secure server and make your booking. We guarantee that the booking process is 100% secure.
Property Pricelist
| Date | Rate for 1 Week | Minimum Stay |
| --- | --- | --- |
| 2nd Nov '13 to 20th Dec '13 | €449.00 | 1 week |
| 21st Dec '13 to 27th Dec '13 | €599.00 | 1 week |
| 28th Dec '13 to 3rd Jan '14 | €599.00 | 1 week |
Tips for writing reviews
Was the property clean and well maintained ?
Were the facilities and amenities the same as described ?
Would you recommend this property to someone else ?

Reviews

No reviews found
You might also like...
Description
Nestled on the beautiful Faithlegg Estate, this luxurious development offers the visitor something truly unique.
Type
Sleeps
Pricelist
Info
Holiday Homes
6

Pricelist


Hide this Box
Holiday Homes
4

Pricelist


Hide this Box
Description
Wolseley Holiday Lodges at the Mount Wolseley Hotel Spa and Country Club is a magnificent Resort just over an hours drive from Dublin City offering an incredible range of facilities onsite.
| | |
| --- | --- |
| | |
Description
Located in the grounds of the Park Hotel and Leisure Centre in Dungarvan in Irelands sunny south east, these brand new holiday homes are perfectly located for a fun packed family holiday.
Type
Sleeps
Pricelist
Info
3 Bedroom Holiday Home
5

Pricelist


Hide this Box
2 Bedroom Holiday Home
5

Pricelist


Hide this Box