Description
Located in a quiet rural area just two and a half miles from the Medieval City of Kilkenny lies Wallslough Village combining the features of six luxurious self catering thatched cottages, two pre-famine dwellings (carefully renovated to retain character), an indoor sports arena and a natural spring fed fishing lake. With their rustic design the cottages still provide all the modern conveniences necessary for a memorable and enjoyable stay. The thatched cottages are built on an elevated site overlooking the lake with spectacular views of the Kilkenny countryside.
Facilities
· Bed linen and towels provided
· TV & DVD
· Cooker
· Microwave
· Washer/dryer
· Central heating
· Sleeps up to 6 people
LOCATION
Located just 5 km from the beautiful medieval Kilkenny city, Wallslough is within easy reach of amenities including train stations in both Thomastown and Kilkenny, golf courses in Mount Juliet and Kilkenny, fishing, tourist attractions (like Kilkenny Castle and Dunmore Caves) making it the ideal base for touring the entire southeast of Ireland.
THE ACCOMMODATION
Eight old world self-catering cottages (6 detatched, 2 semi-detatched)
Six cottages with traditional thatched roofs
Two carefully renovated pre-famine buildings with traditional slate roofs. Fully wheelchair accessible on the ground floor.
Each house sleeps 5 to 6 persons
Each house is equipped with pine kitchen, traditional fireplace and thermostatically controlled central heating
Hand crafted pine furniture in all rooms.
Bath and shower in every house.
Bed linen and towels provided
All cottages equipped with dishwasher / washer dryer / cooker/ microwave/ fridge/ TV/ DVD/ hairdryers/ irons.
Lawns and hedges to front and rear of cottages and picnic tables
Baby Cots and High Chairs are available
All Houses have open fires with a fire already set and just waiting to be lit...............
Please note that a deposit of of 100 euro per cottage is payable on arrival. From this a minimal charge to cover oil and electricity will be deducted and the balance will be refunded after departure
FACILITIES
COARSE ANGLING LAKE
Wallslough Village has its very own beautiful and natural spring-fed lake set in a raised depression in the landscape (known as a perched lake because it is higher than the surrounding countryside). The lake is stocked with coarse fish, the banks of the lake are covered with wild flowers and the lake itself attracts a myriad of wild birds including resident coots, moorhens, families of various breeds of ducks and frequent visits from swans and herons. This is a peaceful and beautiful haven where you can admire the wildlife or do some angling. Angling is free of charge to guests of Wallslough Village.

BRAND NEW INDOOR SPORTS ARENA
Wallslough Village has an indoor sports arena on site with 3 artificial surface pitches (each 30m x 20m). The pitches are ideal for 5 or 6-a-side soccer and they are available for a small charge to guests of Wallslough Village self-catering cottages. They provide perfect entertainment for parties, family reunions, in fact any event at all and they are suitable for all abilities. So, whatever the Irish weather brings there is always something to do at Wallslough Village!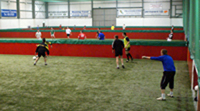 Weekly bookings are from Fri-Fri off peak.
Weekly bookings are from Sat-Sat during July & August.
Weekend bookings are usually Friday & Saturday night.
Bank Holiday weekend bookings are usually Fri, Sat & Sunday night.
read more