Travel Guide to Dingle(An Daingean)
ABOUT DINGLE
DINGLE (An Daingean)
Dingle is the most westerly town in Europe and is often referred to as "the next parish to America". Piled high with majestic mountains and fringed with quiet unpolluted beaches this colourful tourist haven is a mecca for walkers, golfers, surfers, sailors, sightseers and deep sea fishermen. The town offers a wonderful selection of traditional bars and gourmet restaurants which make full use of the fresh seafood that is landed at the harbour each day. This is a Gaeltacht area with something for everyone on Europe's final Western Frontier.
THE GAELTACHT
The Gaeltacht is the term used to refer to those areas of Ireland where the Irish language (Gaeilge) is still spoken as a community language and its cultures and traditions are very much alive and thriving. The Dingle Peninsula area of the Kerry Gaeltacht is known as Corca Dhuibhne and is renowned for its rugged beauty, rolling mountains, sparkling lakes, haunting woodlands and golden sandy beaches.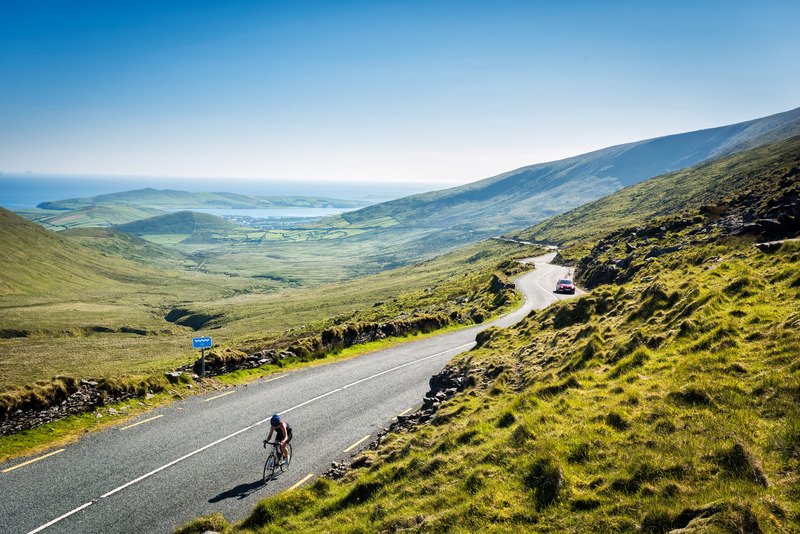 ACTIVITIES IN DINGLE
Dingle offers a host of activities and attractions for the Visitor including:
Sailing in Dingle
The sheltered harbour at Dingle offers a pleasant and safe sailing location. Dingle Bay Charters provide a wide range of boating options for visitors to enjoy the beautiful coastline and islands the Dingle Peninsula has to offer.
Diving in Dingle
Dingle Bay and the Blasket Islands offer a wonderful diving environment.
Dolphin Boat Trips
Dingle has its own resident Dolphin "Fungi" and boat trips leave Dingle pier all day, every day, all year round to see him wild and free in his natural habitat.
Golf in Dingle
Ceann Sibeal Golf Links in Ballyferriter (7 miles from Dingle), set in the splendid scenery of the Dingle Peninsula and overlooking the historic Blasket Islands, is Europe's most westerly golf course.
Dingle Beaches
The Dingle Peninsula boasts some wonderful sandy beaches including the beautiful beach at Ventry and the massive Inch Beach which is famous among the surfing population who flock there.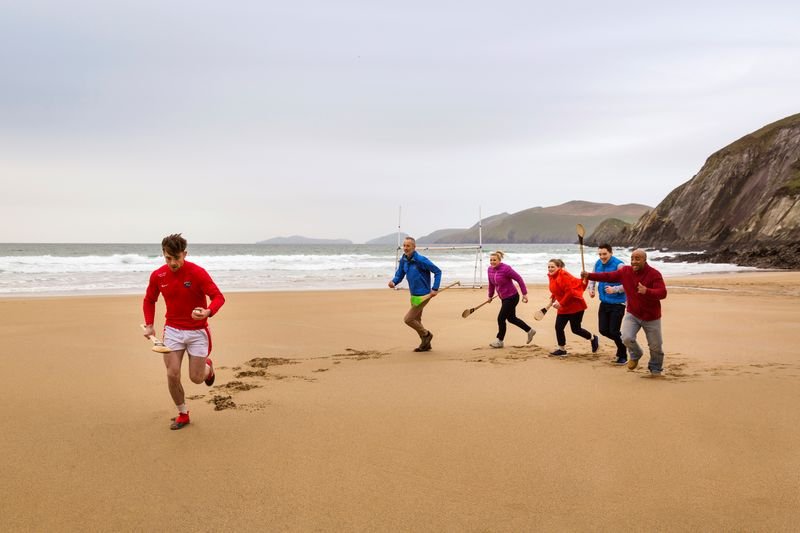 Walking in Dingle
The Dingle Way (153km/95 miles) circles the Dingle Peninsula from Tralee Bay to Inch Beach to Dingle Bay.
Horse Riding in Dingle
What better way to discover the delights of the Kerry scenery than on horseback? Go for Luxury Horse Riding Holidays and Day Treks on Ireland's Magnificent Dingle Peninsula.
Sea Angling in Dingle
Dingle Bay is famous for the wide variety of fish to be caught. Shore and Rock angling in the Dingle Peninsula is very popular and is some of the best in Ireland. Shore and Rock fishing may be done, throughout the year, for a large variety of species. Inch beach, a four-mile stretch of silver strand at the end of Dingle Bay, is a great shore angling spot. It is located on the route from Killarney to Dingle, and is six miles from Annascaul Village. Good Rock angling locations are at Dun an Óir, near Ballyferriter, and Bínn Bán, at the mouth of Dingle Harbour.
At Brandon, bass and flatfish can be caught on the north-facing beach. Travelling West Smerwick harbour has three beaches where bass and flatfish can be got by surf fishing, while from the rocks at the centre of the bay spinning for bass is possible. Ferriter's cove offers possibilities for surf fishing as does Ventry harbour. From Dingle pier, mullet and flounders, can be fished; arrangements can be made for deep sea and inshore fishing. Along the south shore, Beenbane and Reenbeg in the mouth of the harbour are good spots for spinning for bass while further east Trabeg, Anascaul and Inch can provide spinning for bass and flounders and surf fishing for flatfish and occasional tope.
Dingle World of Leisure
Dingle World of Leisure is a must for all ages and contains a fully equipped gym, counter flow swimming pool, steam room, sauna, hydro spa, 10 pin bowling and amusements.
Play At Height - Dingle's most exciting Activity Centre
If it's an adrenalin rush you're looking for, adventure you're after or some family fun you've got in mind when you visit Dingle– then look no further. 'Play At Height' is designed to bring you the ultimate in climbing, swinging, soaring, zipping and free falling thrills. Get to grips with the art of climbing on our gigantic 450 sq m climbing wall, soar through the air on the zip line, get a birds eye view from the high wire – and when you feel like coming back down to earth – what better way to do it than by jumping!
Play At Height. It's total excitement in a totally safe controlled environment.
Water Sports
Jamie Knox Watersports Centre in Castlegregory offers something for everyone from the beginner to the professional and everything in between. Take your pick from a host of water activites including surfing, wind surfing or kite surfing. All courses are run by qualified and expreienced instructors and over seen by ex-professional wind surfer, Jamie Knox.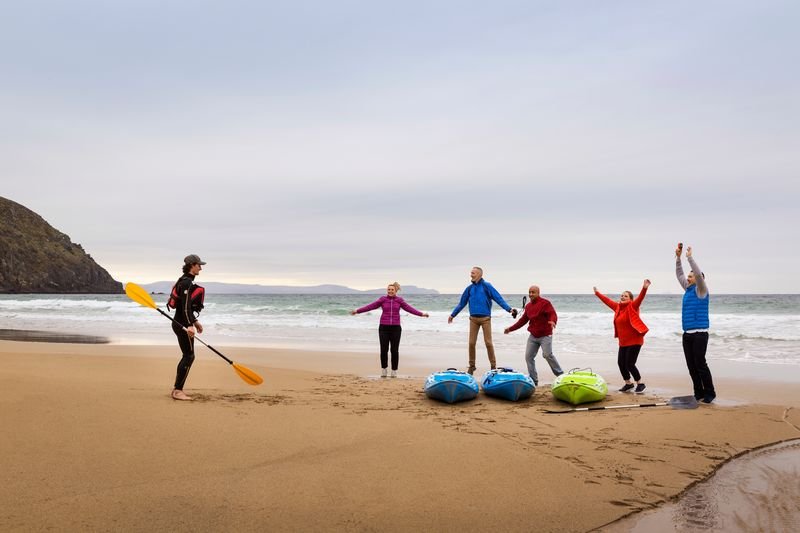 Dingle Adventures - All activities are run by experienced, qualified and knowledgeable staff, who go that bit extra to give you that personal touch and an experienceto remember. Experiences include kayaking from Dingle Harbour, see Fungi the Dolphin at the mouth of the harbour and explore some of the many sea caves.
Local and Historical places of Interest in Dingle
The Slea Head Drive
The scenic route that takes you along the Slea Head Drive is dotted with picturesque villages with both historical and unrefined places of interest along the way. From Dingle town visitors should take the Ventry road through the village of Ventry (don't forget to stop off at Paudie O'Shea's Pub). From there, continue on toward Dunquin, passing Dunbeg Fort and the Fahan Group of Beehive Huts while enjoying the beautiful coastal scenery along the way. At Dunqiun, there is the opportunity of visiting the Blasket Islands from the pier,and the Blasket Island Interpretive Centre. At Dunqiun you are half way there and the beauty of the Dingle Coastline won't disappoint for the remainder of your journey. From Dunquin continue on toward Ballyferriter and on to Riasc monastic settlement which is well worth a visit. After that, Gallarus Oratory and Kilmealkeadar, both of which are a must for those interested in early Christianity in Ireland. Continue along the circular route into Dingle town and take your pick from a host fine dining restaurants and local eateries which will not disappoint.
Dingle Ocean World
Dingle Ocean World – Mara Beo - is a fascinating Aquarium featuring all sorts of creatures from the deep including piranhas, sharks and a spectacular underwater tunnel displaying many different species of fish from the Atlantic Ocean.
The Blasket Island Centre
Located in Dun Chaoin, this heritage centre is dedicated to the history, language, culture and unique literary achievements of the Blasket Islands.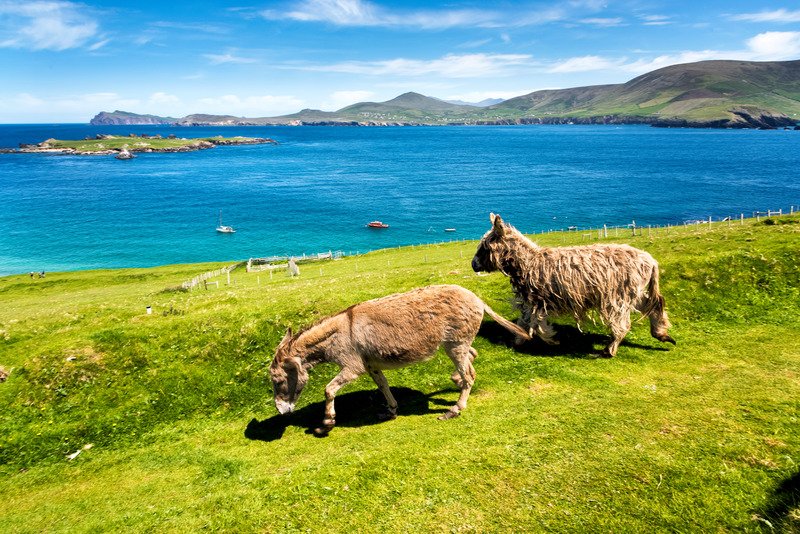 Gallarus Oratory Centre
Built in the 7th and 8th Century, Gallarus Oratory is a remarkable example of an early Christian Church in Ireland which has survived over the centuries.
Other Local Attractions in Dingle include:
Places to Eat and Restaurants in Dingle