Travel Guide to Ballybunion
About Ballybunion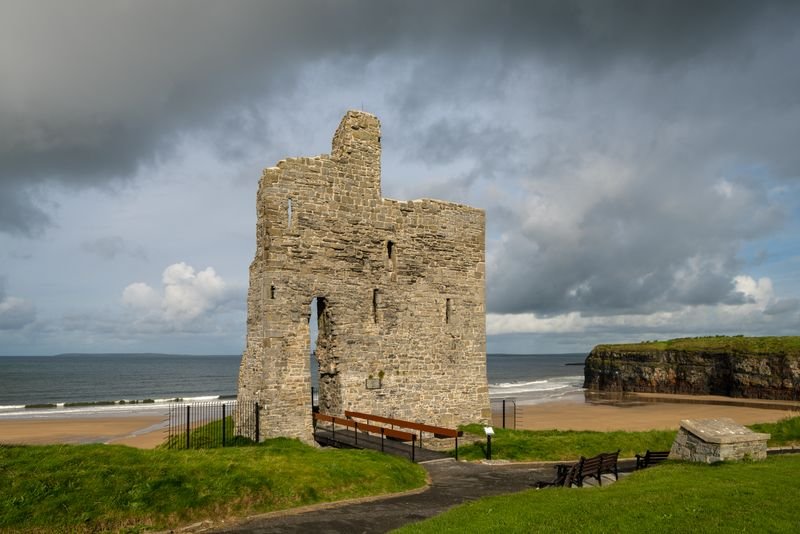 Ballybunion is a coastal town situated in North Kerry, near the mouth of the Shannon Estuary.The coastline at Ballybunion, with its sea caves, rugged cliffs, coves and beaches, forms a very fine district for seaside holidays. Ballybunion offers everything you could possibly want for your seaside holiday or a memorable family day out.
Golfing in Ballybunion
Ballybunion Golf Course is the home of two magnificent championship golf links. The old course is considered to be among the top 10 courses in the world and the new course is ranked within the top 30 in Europe! The courses are suitated on the Atlantic coastline and boasts breathtaking views. Ballybunion has attracted many important figures such as Bill Clinton who have played this fantastic course. It will leave golfers with the most impressive golf links experience.
Watersports in Ballybunion
Ballybunion beach is recognised as one of Kerry's best spots for water sports. Ballybunion produces some of the greatest waves for all levels of surfers with a choice of four golden beaches. Ballybunion surf school is a great experience that you will never forget.
There are various water sports activites to choose from in Ballybunion such as Sea Kayaking, surfing, Dinghy sailing, canoeing and sailing.
Beaches in Ballybunion
Ballybunion has seven miles of golden beaches.
The Ladies Beach to the left of the Castle and the Men's Beach to the right, the long strand and the quiet secluded Nun's Beach away in a cove of its own. Awarded the European Blue Flag, the beaches are exceptionally clean and safe.
Walking in Ballybunion
Ballybunion offers plenty of long walks by the cliff and coast in this most scenic area. A well known walk is the Ballybunion Cliff - walking out to the Nine Daughter hole is a magnificant and well known trail. For those who like a trek, maybe take the Knockamore route offering panoramic views of the estuary and fertile plain.
Fishing in Ballybunion
Ballybunion is a fishing haven for the enthusiastic anglers. Game/Sea/Coarse fishing are all widely available all year round. There are many fishing hotspots that reward anglers with bountiful catches.
Cycling in Ballybunion
Ballybunion offers relatively quite roads with beautiful scenery for cycling tours. Ballybunion has a number of short cycle routes which take in the striking coastal scenery in the area.
Things to do for Children in Ballybunion
Exploring the area around Ballybunion is an absolute pleasure with so many wonderful things to do. It has ever changing scenery with vast contrasts.
There are plenty of places of interest within an easy drive of Ballybunion including Dingle, The Aquadome in Tralee, Tarbert House, The Garden of Europe, Kerry County Museum, Ballyheigue Maritime Centre, Bowling Buddies, The Playdium, Crag Cave and Blennerville Windmill.

Places of Interest near Ballybunion
Tarbert House Home of the Leslie family since 1690, Tarbert house is a Queen Anne/Georgian period building dating from 1690. It is still preserved in its original form with furniture and pictures from the same period.
Kerry County Museum, this is part of the Kerry the Kingdom experience which features 3 superb attractions in one centre. Priceless treasures stand side by side with the most modern interpretative media.
Blennerville Windmill Unique 200 year old windmill now fully restored, housing exhibits on the history of milling. The exhibition charts the history of Blennerville, particularly its role as a 19th Century emigrant port.
Places to Eat & Restaurants in Ballybunion
There are many fine dining experiences in Ballybunion. Check out some of these popular Ballybunion restaurants: