Self Catering Accommodation Guide to Tullow, Co. Carlow, Ireland.
About Tullow
Tullow is located on the river Slaney and rises on the Lugnaquilla Mountains in the western wicklow mountains among the mountains. It is also proud of its Irish name "An Tulach" meaning "The Mould". The town of Tullow, renowned for it's fertile land and magnificant granite.Tullow's most famous glof course Mount Wolseley Golf and country club designed by the great Christy O' Connor Jnr.Mount Wolseley estate was home to Fredrick York Wolseley, who gave his name to Wolseley cars.
Tullow is ideal base for touring places magnificant places such as Mount Wolsley, Killerig and the Wicklow Way.
Activities & Things to do in Tullow
Pony Trekking in Tullow:
Take a trek and surronded yourself by luscious pastures and woods. Coole Equestrain Centre is located in the picturesque village of Rathvilly.It is one of lenisters largest treking facilities with over 500 acres.Enjoy a show jumping/dressage lesson to trial rides, many services that will cater for all levels of riding.
Golf in Tullow
Wolseley Golf course located is one of Europe's finest courses.The magnificent course in Mount Wolseley setting and visual delights is something to behold.The picturesque settings of lakes and spectacular views of the Carlow mountains.The course itself is set few hundred yards from the mandering River Slaney.Designed by the renowed golfer Christy O'Connor Jnr golf course exceeds all expectations and leave lasting memories for all participants.
Fishing in Tullow
Tullow offers angling enthusiasts wonderful fishing on some of the most delightful streches of waterways in Ireland.Tullow with its two rivers the slaney and the barrow are renowned as a game and coarse angling river for many species of fish.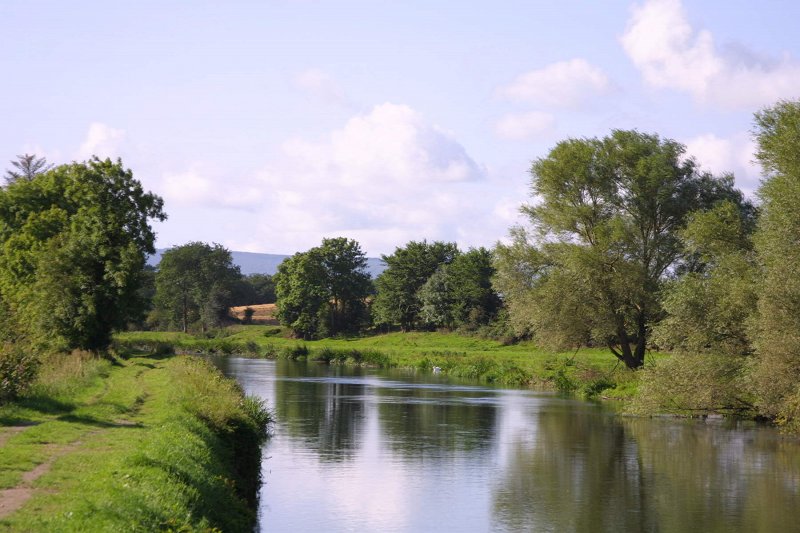 Water sports in Tullow
Take adventure and challagne the rapids of Tullows with water river excitment by canoe.Paddle along and encounter the magnificant streches of scenic river. Go with the flow river adventures tours have so much to offer.Plenty of fun and games from Splash battles to taking the buzz of swimming the rapids.
Walking in Tullow:
Tullow has many walks to offer from mountain treks to leisurely strolls.Encounter regular sightseeing of red and silka deer, squirrels and hares.Follow the towpaths along the river slaney and barrow, take in its marvellous views. Carlow itself is home to many of Irlands key routes, such as The Wicklow Way The Barrow Way and The Lenister Way.
Place to Visit Near Tullow
Nesteled in the nooks of Tullow are fruit Farms, open farms, rural museums and microbreweries.
The carlow brewing company is small Irish Brewery located in the Barrow Valley.The beer produced are based on traditiional celtic beer style.Visitors to the brewery can avail of a tour of the brewery and it's history.Take a trip in time and visit The Cottage Collection, exhibits housed in a cottage with 1920's collection of fascinating artefacts. Visit Tullows soft fruit farm, boosting a variety of fruit such as tayberries, gooseberries and raspberries. Malone's Fruit farm is family run business and provide guided tours of the farm.
Annual Events in Tullow
Tullow hosts annual events known as Tullow Agricultual Show a great day for all the family.The show dates back to 1946.There are many exhibits, such as the livestock cattle and calf championship competition.Included in the days fun events is Best dressed ladies outfit, Tug of War and Little Miss Tulllow.
Places to Eat & Restaurants in Tullow
There are many fine dining experiences in Tullow. Check out some of these popular Tullows restaurants:
Beams Restaurant
Lills Restaurant
La Napoletana
The Local History of Tullow
The town of Tullow is a good example of one of Ireland's mysteries locations. The history of the town lies in a statue in the centre of market square.The statue symbolises excutation and capuring of local priest Fr. John Murphy Father John Murphy, the insurgent leader of the Irish Rebellion in 1798. Tullow town was once connected to the Irish railway network, on a branch line from Nass in county Kildare. The banch line finally closed altogether in 1959.
Carlow Bus Eireann +353 (59) 9143081
Carlow Train Station +353 (59) 9131633
JJ Kavanagh private Bus Service +353 (59) 9143081