Self Catering Accommodation Guide to the Black Valley, Co. Kerry, Ireland

About the Black Valley
The Black Valley is situated between the Lakes of Killarney and the MacGillicuddy Reeks and part of the Kerry Way and is nestled between the towns of Kenmare and Killarney, Co. Kerry, Ireland. It is one of the most beautiful and unspoilt places in the world. The Valley has a wild, rugged and extreme beauty, yet also has calmness, friendliness and tranquility. It is a natural, untamed place that reflects the peoples' struggle to make a living throughout the ages. It is nature at it's fiercest and it's gentlest. Every rock and gully, stream and mountain has its own stories and secrets, some of which we will never know...yet on a mid-summer's starry night, if you listen very carefully, you can almost hear the gentle breeze whispering, revealing some of these secrets to you.

The MacGillycuddy Reeks with their numerous peaks, many over 3000 feet, overshadow the Valley. They form part of a vast chain extending east into Co. Cork. They are mainly composed of old sandstone which is brown, red or purple in colour, with small patches of green or yellow. Although bare of vegetation today, up to the middle of the 17th century, they were covered with great woodlands – totally destroyed by a charcoal works by Sir William Petty for his ironworks at Glencar. What is striking is their ever-changing appearance – in the morning they form clear lines across a blue sky, but by the end of the day, they may form a dull brown shape or the tops may be covered by a fluffy cloak of cloud.
Ireland's highest peak Carrauntohill is located in the Black Valley. It is 1,038 metres tall and is the centre peak of the MacGillicuddy Reeks. If you would rather not climb the highest peak in Ireland - you can also climb Bean Caorach, An Chruach Mhor, Cnoc a Bhraca, or Cnoc Cuillin which are all over 3,000 feet.
Activities in the Black Valley
Boating
A boat trip on the tranquil lakes of Killarney is a wonderful way to spend an afternoon. Trips are regularly scheduled throughout the day and depart from both Killarney and the Black Valley. Bicycles are permitted on all boats. For booking information, please contact Cosy Gap Restaurant at +353 64 44822.
Local boat trips offering a unique and beautiful shortcut to Killarney are also available from the Black Valley. The boat can also be picked up from the N71 Killarney to Kenmare road at the Five Mile Bridge between the Eagles Nest and Torc Mountain - this is a short cut to the Black Valley follows the Long Range river and the Upper Lake of Killarney. Bicycles are also carried on the boat trip.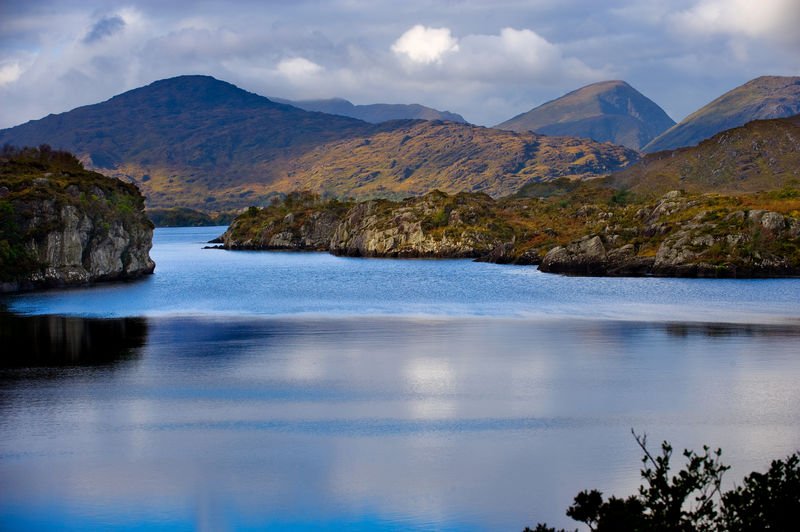 Hill walking and climbing
From a leisurely ramble on winding country roads to climbing Carrauntoohil, Ireland's highest mountain, the Black Valley offers something for families and intrepid adventurers alike. Why not plan a trip on the scenic Kerry Way and see local wildlife and scenery up close?
Horse riding
You can travel through the Valley either on horse-back or on a horse-and-cart.
One of the nicest ways to travel through the Black Valley is by horse-and-cart. Slowly making your way from Kate Kearney's Cottage through the Gap of Dunloe to the lakes of Killarney, you'll have time to take in the view and chat to your driver about the history and myths of the area.
Alternatively, why not venture off the beaten track completely and try out your horse riding skills on a route of your choice through the valley. You can choose between a one hour trip to a full day trek and everyone from beginners to the more experienced is welcome.
For more information, contact Gene Tangney at Black Valley Equestrian.
Telephone: +353 64 37133
Canoeing
For canoeing enthusiasts, the Black Valley offers superb rivers and lakes to choose from. Come along and find out for yourself!
You can go to Lord Brandon's Cottage where you can get lovely home-made sandwiches with soup, tea or coffee and a snack before you either walk some of the Kerry Way or take the boat through the lakes until you reach Killarney.
Places to visit near the Black Valley
Kenmare
The award winning town of Kenmare with its many fine bars and restaurants is only a 20 minute drive from the Black Valley. The town of Kenmare also offers many activites and things to do.
It has a very pretty harbour from where you can swim, fish or take boat trips on the Seafari to view the wildlife in the area. There are a wide range of great Fishing spots to choose from in the area such as the lakes in the Caha Mountains and the Black Valley.
The Black Valley is an ideal base for touring the Ring of Kerry, the Ring of Beara, and the Dingle Peninsula. There are many quiet beaches and coves along the way and most are safe to bathe in. There are also many towns and villages to visit on your journey, such as Kenmare, Waterville, Castletownbere, and Ventry to name just a few!
Muckross House
Muckross House and Gardens and Traditional Farms which are located just outside Killarney, is a fantastic experience for everyone. The house and its gardens are kept magnificently, while the farm shows how farming used to be managed in more traditional times.
The Skellig Islands
The Skellig Islands is an experience of a lifetime. The two Skellig Islands, Skellig Michael and small Skellig stand in the Atlantic Ocean 12 km south west of Valentia. They are renowned for their scenery, seabird colonies and early Christian monastic architecture.
Fishing in the Black Valley
You can go fly fishing on the Lakes of Killarney, Waterville Lake, River Laune, River Flesk, Carragh Lake, Long Lake, and the Black Valley or sea fishing in Kenmare. The quality of angling in Killarney is famous throughout Ireland!
Golfing in Killarney and its surrounding areas
Kerry is home to some of Ireland's finest golf courses and Killarney is one of the best bases for golfing enthusiasts. Please click on the links below to view some of the golf courses around Kerry:
Walking in Killarney
Killarney provides both the rambler and serious walker with the ultimate in diversity. The choice of walks is endless, from the Kerry Way which is the country's longest way-marked trail, to the highest peaks in Ireland - the Macgillycuddy's Reeks.
120 Bird Species have been recorded in Killarney. In one recent twelve-month period, three very unusual species were found including the Osprey, Reed Warbler and Black Tern. Recent tagging and recording has found a Killarney Starling in Latvia, a Blackbird from Finland and a Teal under the Urals. There is also a new addition of the White Tailed Eagle to the National Park.
There is a brilliant children's playground in Killarney. It is located in the Killarney National Park opposite St. Mary's Cathedral.
Ladies View is located at Molls Gap between Kenmare and Killarney. Ladies View became famous in the 1860's when Queen Victoria decided that the view was the "finest in the land".
Other places and activities worth noting are Derrynane House, Crag Caves and Kate Kearney's Cottage which is only over the mountain!
Activities & Things to do in Kenmare
Pony Trekking in Kenmare is an ideal way to explore the hidden treasures of Kenmare and its hinterland. In addition professional lessons are available for beginners.
Golf in Kenmare: You can enjoy the woodland and undulating landscape of Kenmare's 18 hole golf course or the new Ring of Kerry Golf and Country Club - 18 hole course in Templenoe and is just 3 miles away from Kenmare town. In addition the championship courses of Killarney and Waterville are within easy driving distance.
Other activities in Kenmare area include Water-skiing, Kayaking, tubing, sailing, quad riding, Scuba Diving, Canoeing, Bicycle Hire and Pitch and Putt.
Places to Eat & Restaurants in Kenmare
There are many fine dining experiences and family restaurants in Kenmare. Check out some of these popular Kenmare restaurants:
Restaurants in Killarney
There are many places to eat out in Killarney and Killarney is only 20 minutes drive from the Black Valley. From fast-food to fine dining. A good tip is to follow the locals, they know the good from the bad - if there are only tourists eating in a restaurant, tread very carefully. These are a few of the many places to eat in Killarney:
There is also MacDonalds, Burger King, Bombay Palace Indian, Bricin, Allegro and many other dining outlets.