Travel Guide To Killorglin
ABOUT KILLORGLIN, CO. KERRY
Killorglin is a bustling town in the heart of County Kerry. It is located at the gateway to both the Ring of Kerry and the Dingle Peninsula and close to the cosmopolitan towns of Killarney, Kenmare and Dingle. There is a great selection of traditional Irish pubs in Killorglin and some fantastic restaurants and there is a host of activities within Killorglin and its surrounding areas. Children in Killorglin can enjoy the brand new facilities that include state of the art play ground situated at Library Place.

PUCK FAIR
Killorglin is the venue for Puck Fair one of Ireland's most unusual street festivals. Puck Fair is one of Ireland's oldest and longest celebrated street festival and is held every year on 10th, 11th and 12th August. Activities for Puck Fair include hours of free family street entertainment. The main events of the festival include the traditional horse fair, colourful parade and coronation ceremony of King Puck, open air night concerts, spectacular fireworks display, children's competitions, street entertainers and dancing displays.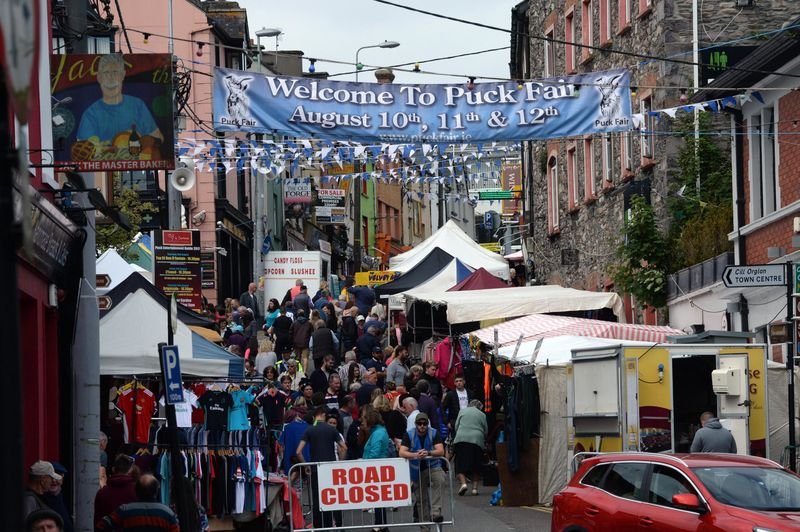 Places to Eat & Restaurants in Killorglin
There are many fine dining experiences and family restaurants in Killorglin. Check out some of these popular Killorglin restaurants:
ACTIVITIES IN KILLORGLIN
KILLORGLIN AND THE RING OF KERRY
Killorglin is located at the gateway to the Ring of Kerry. This is a world famous scenic drive around the Iveragh Peninsula which takes you through such quaint and picturesque towns as Glenbeigh, Cahirsiveen, Waterville, Sneem, Kenmare and Killarney.
ROSSBEIGH BEACH
Located just 8 miles from Killorglin, lies Rossbeigh Beach, a beautiful sandy Blue Flag beach. It is seven kilometres in length and is ideal for swimming. windsurfing, sailing, horse-trekking, sailing, sea fishing, shore fishing and many other water sports and activities.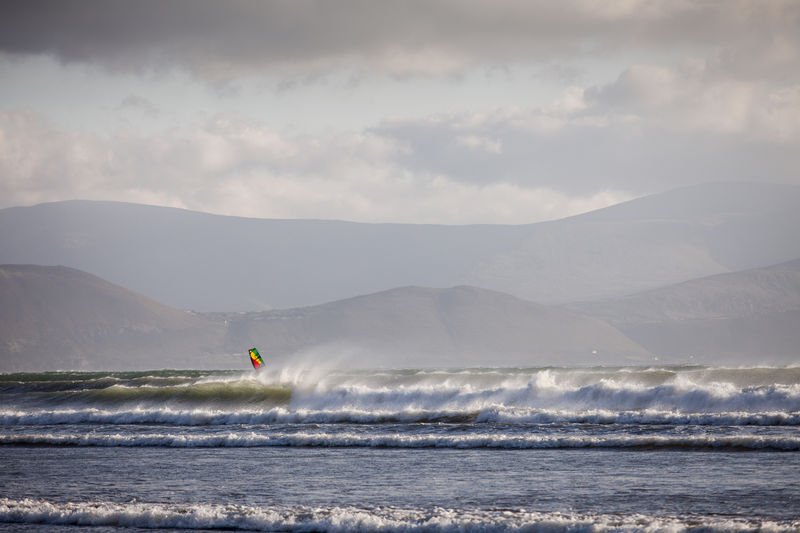 GOLF IN KILLORGLIN & THE LOCAL AREA
Killorglin Golf Course is a scenic 18 hole parkland course. The course enjoys magnificent panoramic views of the majestic Macgillicuddy Reeks Mountain Range (including Carrauntouhill, Ireland's highest mountain) on one side and on the other golfers can take in the breathtaking sights of Dingle Bay and the Slieve Mish Range beyond.
Just minutes drive from Killorglin, Dooks Golf Course with spectacular views over Dooks beach and Dingle Bay. With its prime location on the gateway to the Ring of Kerry, Killorglin is the ideal base for a golfing holiday as the courses of Waterville, Kenmare, Ring of Kerry and Killarney are all within driving distance.
HORSE RIDING IN KILLORGLIN
There are a number of Equestrian Centres in Killorglin offering pony trekking along the strand or indeed up more hilly terrain.
WALKING IN KILLORGLIN
Killorglin and its surrounding areas offers a wide variety of walking routes from quiet country walks to coastal walks to The Kerry Way and the ascent of Ireland's highest mountain – Carrauntuohill.
FISHING IN KILLORGLIN
Visitors can enjoy excellent angling in Killorglin on the River Laune, a salmon fishing river. The River Laune boasts a run of salmon and the river also drains the largest of the Killarney Lakes which is known for its brown trout.
CYCLING IN KILLORGLIN
Killorglin is an ideal place for cycling and bikes are available for hire on a daily or weekly basis from O'Shea's in the town.
PLACES TO VISIT NEAR KILLORGLIN
GLENCAR
Perched high above Caragh Lake lies the naturally beautiful district of Glencar which is a popular section of the Kerry Way Walking Route. It also offers some of the most picturesque picnic areas imaginable.
CARAGH LAKE
Caragh Lake lies just on the outskirts of Killorglin town. The lake is five miles long by one mile wide and is well known to artists, walkers and lovers of nature alike. This freshwater lake with its backdrop of the MacGillycuddy Reeks mountain range and the lower Caragh River is renowned for salmon and trout fishing and for various water sports.
CAPPANALEA OUTDOOR CENTRE
Located on the Scenic Caragh Lake Cappanalea Adventure Centre offers a variety of activities to suit all ages. These activities range from field studies to outdoor sports for all levels from the novice to the experienced. Activities include Canoing, Orienteering, Sailing, Hillwalking and much more.

VISITOR ATTRACTIONS NEAR KILLORGLIN
MUSEUM & EXHIBITION CENTRE IN KILLORGLIN
The Basement Museum on Mill Road, Killorglin, offers a number of displays including the history of the Circus, the legends and history associated with Puck Fair and an outdoor display of old farm machinery and artifacts.
KILLARNEY NATIONAL PARK
Killarney National Park is just a fifteen minute drive from Killorglin. The Killarney National Park consists of 25,000 acres of lakes, rivers, mountains, wildlife and walks where all year round you can commune with nature without interruption.
THE SKELLIG ISLANDS
The Skellig Experience is an experience of a life time. The two Skellig Islands, Skellig Michael and Small Skellig stand in the Atlantic Ocean 12km South West of Valentia. They are renowned for their scenery, sea bird colonies and early Christian monastic architecture.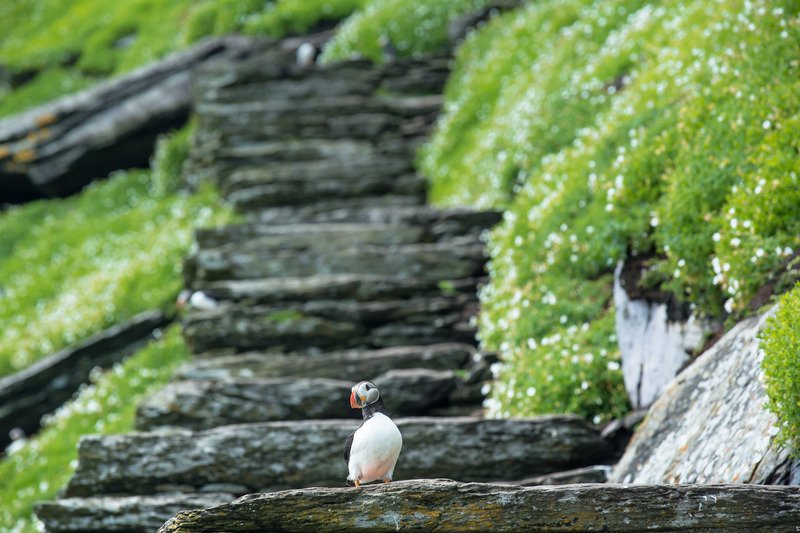 OTHER LOCAL AND HISTORICAL ATTRACTIONS IN KILLORGLIN :
Dromavalla - Old Church
Blennerhassett Monument
Ballykissane Monument
Killorglin Stone Bridge
St. James' Roman Catholic Church
Castle Conway
The Bianconi
The Iron Bridge